See your success story here
"Working with Daniel from BK Conditioning has been an absolute pleasure! Leading into my shows last year, he was a great source of information and always there to lend his advice and an extra set of eyes. Moving into the off-season, we have worked well together and he has provided me with exceptional coaching, always available when I need him! He has always worked around any issues that I may have in and out of body building! I'm more than excited to have him steer the ship as I move into my next contest prep! I cannot recommend him highly enough to anyone who would like to begin their body building journey, or for those who are keen to take that extra step and be in contention against the very best!"
Nicholas James (ICN Pro Bodybuilder).
ICN Canberra Overall Champion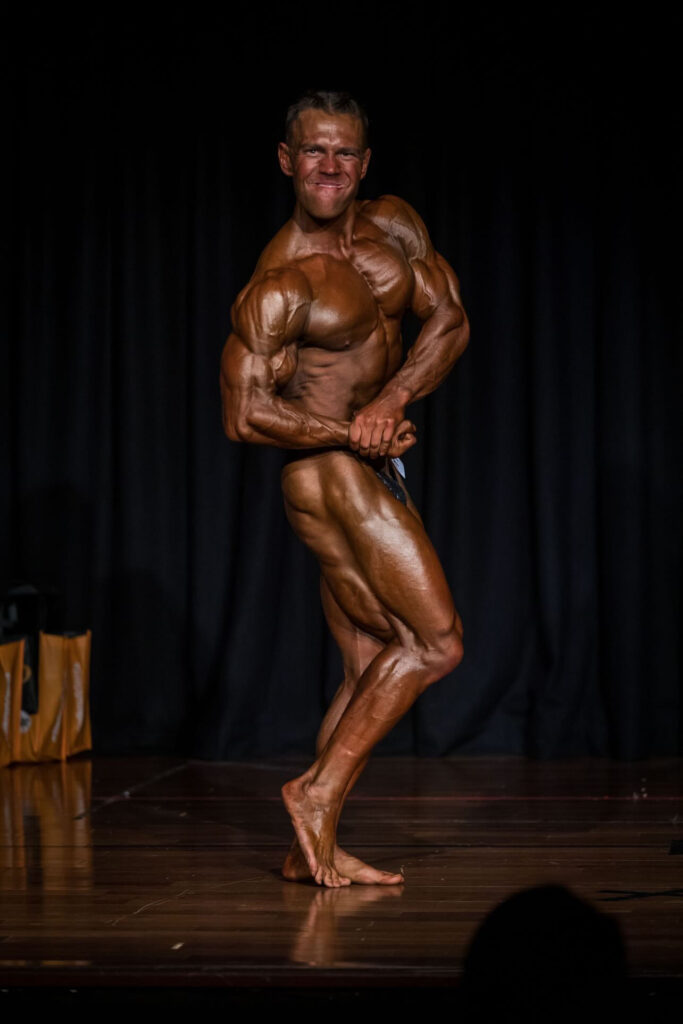 ________________________________________________________
I've worked with Brandon for over 3 years.  From day one he has been by far the most professional, passionate, and knowledgeable coach I have ever known. I've worked with a number of coaches in person, and honestly believe Brandon's commitment, to me achieving my best – even from the other side of the country – is far more than I have ever experienced. I began working with B at the end of 2019, with the goal of competing at the ICN World Champs in 2020 in the Men's Physique Pro division. Due to Covid we had to amend our plans and timelines, a number of times due to the uncertainty that was overseas travel; but this was never an issue for B regarding progress. My job as a long haul pilot has me travelling overseas, constantly traversing time zones, countries and cities, but all of this was taken into consideration from day one.  Brandon understood my body and it's needs, as well as/if not, better than I did myself.
We eventually put a plan in place to compete at the ICN Australian nationals in 2022, followed 6 weeks later by the ICN World Championships in Prague, Czech Republic. Throughout our entire time working together, B has been very accessible through text and voice messages, but this was even more evident as the shows grew closer, and more frequent changes were needed due to a few illness and injuries. No ask was too big.  He amended my plans so I was able to work around injuries and a crazy work schedule, which is not very conducive with bodybuilding competition prep!
B is incredibly 'hands on' (in a digital format!), honest (I can't stress the importance of honesty in a coach!!) and involved, in every aspect of the prep. He made me feel at ease at every point of my journey to the stage. This was particularly important whilst I was competing in Europe – something I had apprehensions about, due to us being in literally opposite time zones.
Our two show season could not have gone any better.  I was able to bring my absolute best ever package to the stage, resulting in winning the Pro Nationals, as well as becoming the ICN Professional Men's Physique World Champion – a dream come true, and something I will never forget.
Brandon is, hands down, the best coach I have ever had the pleasure of working with during my 16 years of training and 7 years of competition. It has been, and still is a privilege to work with him on a regular basis. I cannot recommend him highly enough to anyone who is serious about wanting to take their physique to the next level.
Chad Thompson 
ICN Pro Mens Physique World Champion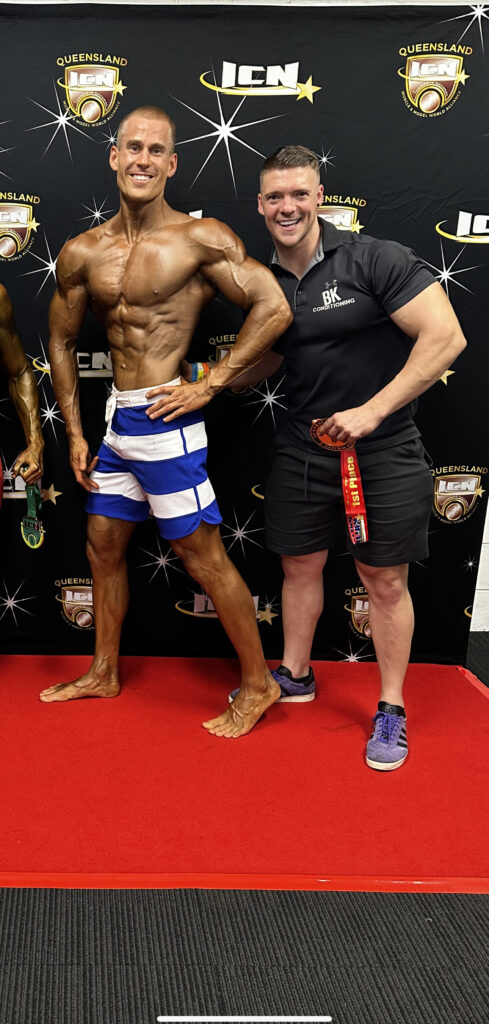 ________________________________________________________
I always saw Brandon's results through social media & shows. I knew he was a phenomenal coach just by the way his clients results & outcomes were. He is known for getting people absolutely skinned and bringing their all time best.
I had been recommended Brandon through multiple high level coaches & athletes when I was seeking a new coach but never reached out as I stuck it out with my previous coach longer than intended. After reaching out to Brandon organising a video call to discuss joining the team it instantly felt right.
Brandon was welcoming, friendly & the thing that I loved most was he had everything planned out to a tee, when we were going to push the off-season too, when we were going to pull food back, when we were going to Deload, when we were going to have diet breaks and the rest… Brandon's organisation was mapped out, structured & planned to a tee.
As I progressed with Brandon everyone already saw my results instantly change. See what is really good is when an athlete & a coach collab well together. If you have an athlete who is giving there all but the coach isn't giving it back then you won't have the best outcome.
Every week with Brandon I became better than I was prior, every question I had to ask he was there with an answer. Not just a plain answer, an answer that was in depth and detail to ensure I was learning and being informed correctly along the way. Brandon is hands down the definition of a phenomenal coach, he made my first ever competition prep for a bodybuilding show nothing other than professional & enjoyable. I pushed my physique to levels I never thought I was capable of achieving & also held a standard nothing less than top tier. I am forever greatful and proud for the package I bought for my debut season taking only 1st & 2nds in all shows I competed in (including a nationals show)
I have learnt so much from Brandon which I greatly appreciate, I will carry on his methods to myself and to all of my clients. I want to thank Brandon & team BK for everything he has done for me along my bodybuilding journey so far.
Brandon is an absolute legend of a human and I am forever grateful that I was lucky enough to be guided by the best hands in natural bodybuilding. He is the definition of a world class coach and an insane athlete himself with a wealth of knowledge who genuinely is so passionate about his clients and driven about the sport of bodybuilding just like myself.
Pete Morel
ICN Nationals 2nd place (classic open)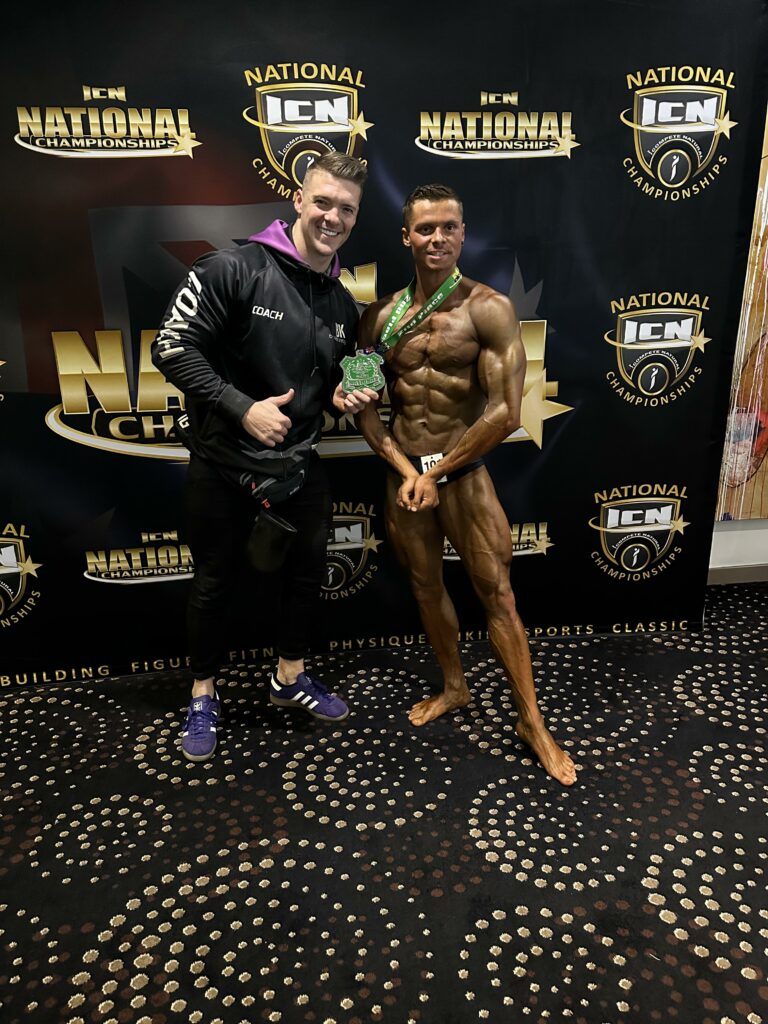 ________________________________________________________
"Working with Daniel across both season A&B. Starting with winning our ICN Qld overall in physique at season A and end up winning both pro card for ICN and NBA season B.

It was amazing how we did it without stress and we had never miss a peak on any of those 3 shows.

Most importantly, we were more like a family than coach and client. This is definitely the A team for me!"
Michael Li (ICN/NBA Pro Mens Physique)
ICN QLD Men's physique overall champion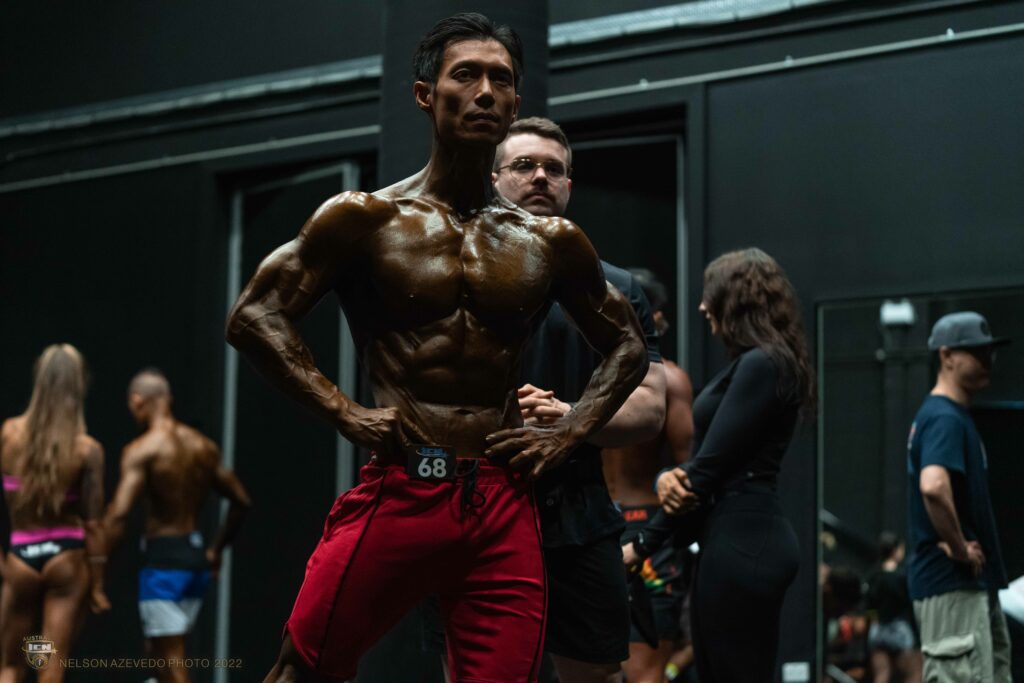 ________________________________________________________
I engaged the services of Brandon back in February 2021 with the intention to complete a structured off season and then a competition preparation and season  in Season B 2022 under his coaching.
Over the course of almost two years Brandon provided me with a seamless approach to his coaching, training and check in process. As a fellow coach one of the reasons I applied to Brandon for coaching was to also learn from one of the best in the country. 
He always answered any of the questions I put to him in great detail and through the off season and preparation I learnt a tremendous amount which I now employ in my own coaching systems.
Having competed over 40 times in the past this season was by far my best in regards to stage conditioning, symmetry and overall results and I have Brandon to thank for that.
Paul Hooper (NBA Pro Mens Physique)
________________________________________________________
"I was half way through prep for season B when I hit some barriers and was thinking of quitting. I'd heard of BK Conditioning through recommendations, when I thought I'd reach out to Daniel for some advice. After speaking with Daniel I felt so much power and motivation again to continue prep. With about 8 weeks to go Daniel helped me achieve my best physique to date, I took home 5 podium finishes. I can not recommend BK Conditioning enough, the amount of support, pre comp, backstage and recovery phase has been absolutely amazing, no questions were too much. I'm looking forward to seeing what we can achieve through a good growing season. "
Michelle Richardson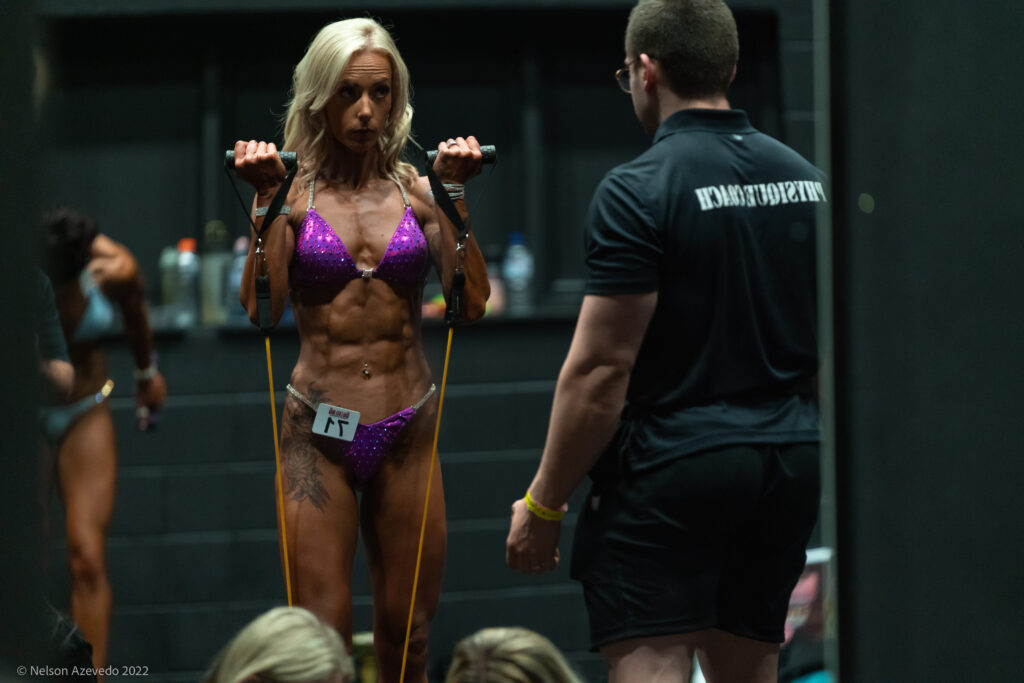 ________________________________________________________
Coach BK – the man behind the strategy and refining natural BB💥
The level of commitment from Brandon along our journey has been phenomenal, the level of knowledge and experience backed by his passion to put his athletes first is displayed in the images above! 👌🏾
From Australia to the UK, we made it happen with regular comms along with an honest and open relationship! 🔑
Nothing but mad mad mad love to you my brother ❤️
This will never be forgotten
Leon Michell
WNBF UK Overall bodybuilding champion (Pro qualification)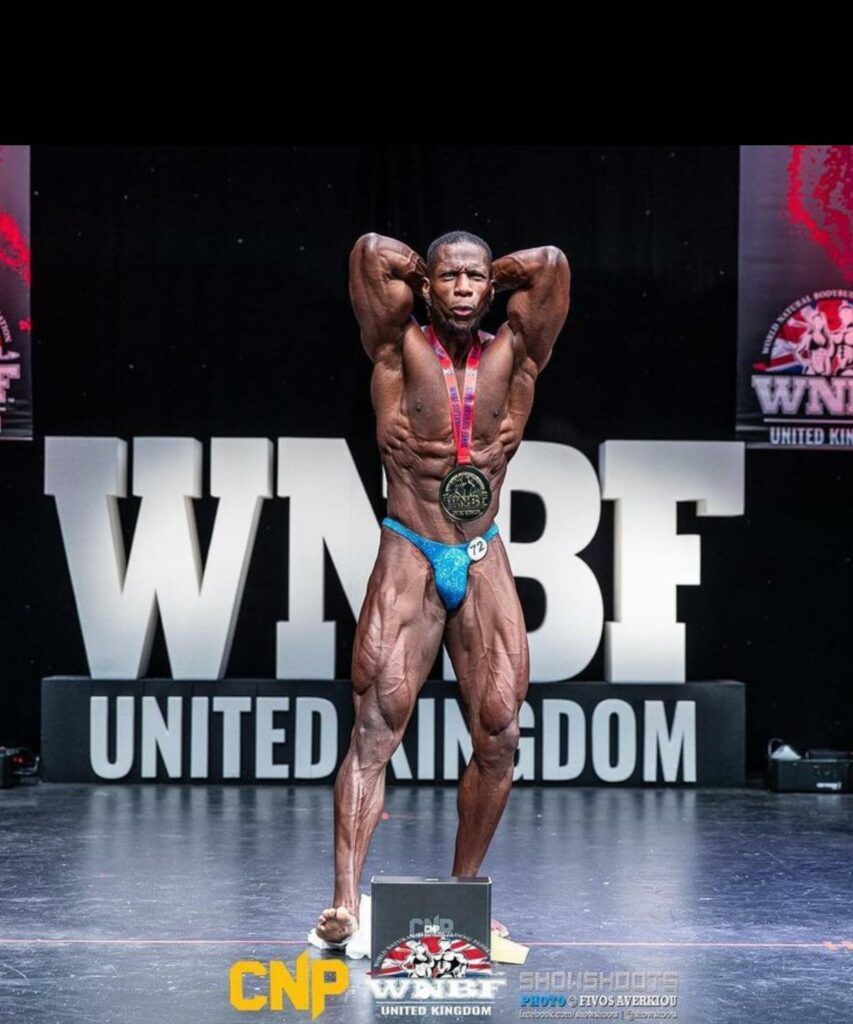 ________________________________________________________
We did it!! Classic Physique – IFBB Pro!
My peaking protocol designed by my awesome coach  was set to perfection and went so smoothly.
Gareeno Mackey
IFBB Jr Nationals Classic Physique Overall Champion (Pro Qualification)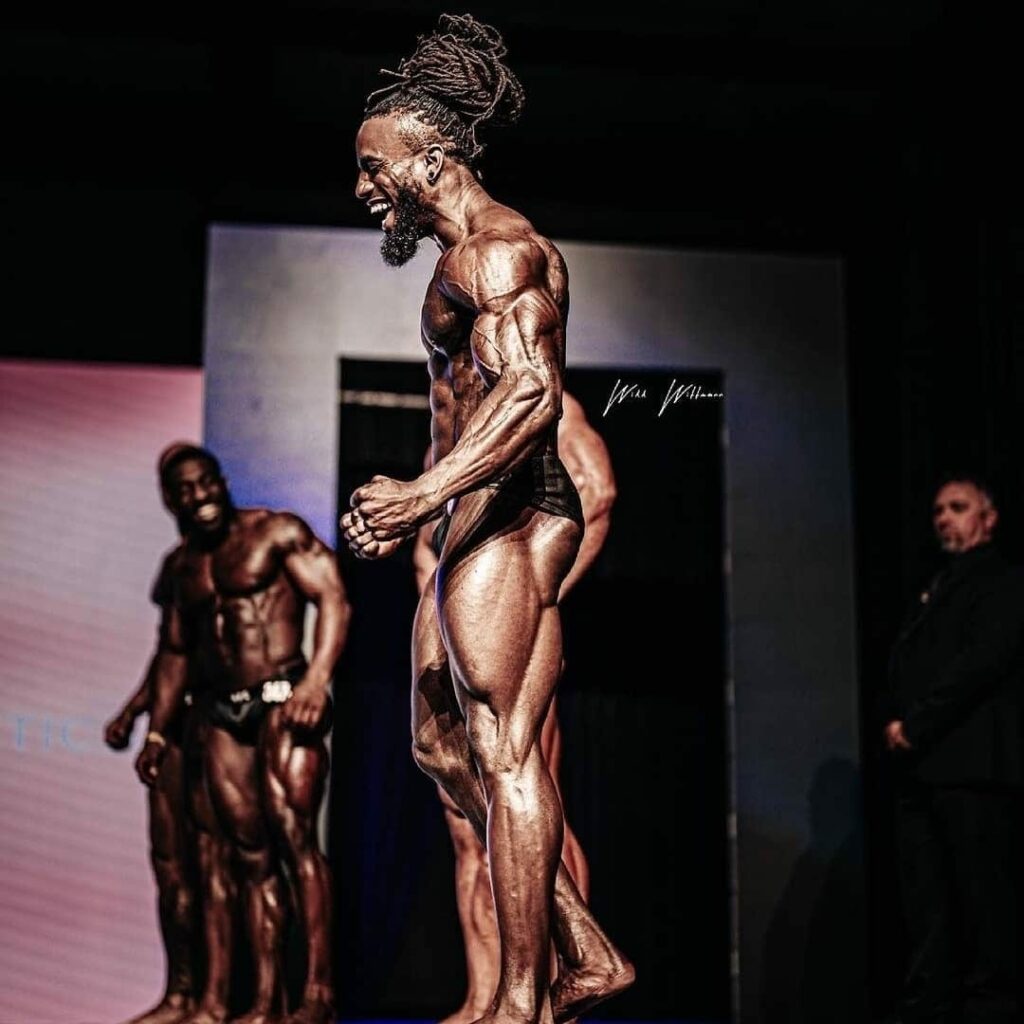 ________________________________________________________
Since starting with Brandon In 2018, he has been nothing but great to me.
From teaching me how to train properly and the importance of attention to the little things.
He has supported me through my own pt business endeavours and been a great mentor.
In 2021 I competed in season b and his knowledge and care was nothing but outstanding.
I can't  recommend Brandon enough for coaching.
Keven
ICN Tropix 2nd Junior Bodybuilding
ICN QLD Championships 2nd Junior Bodybuilding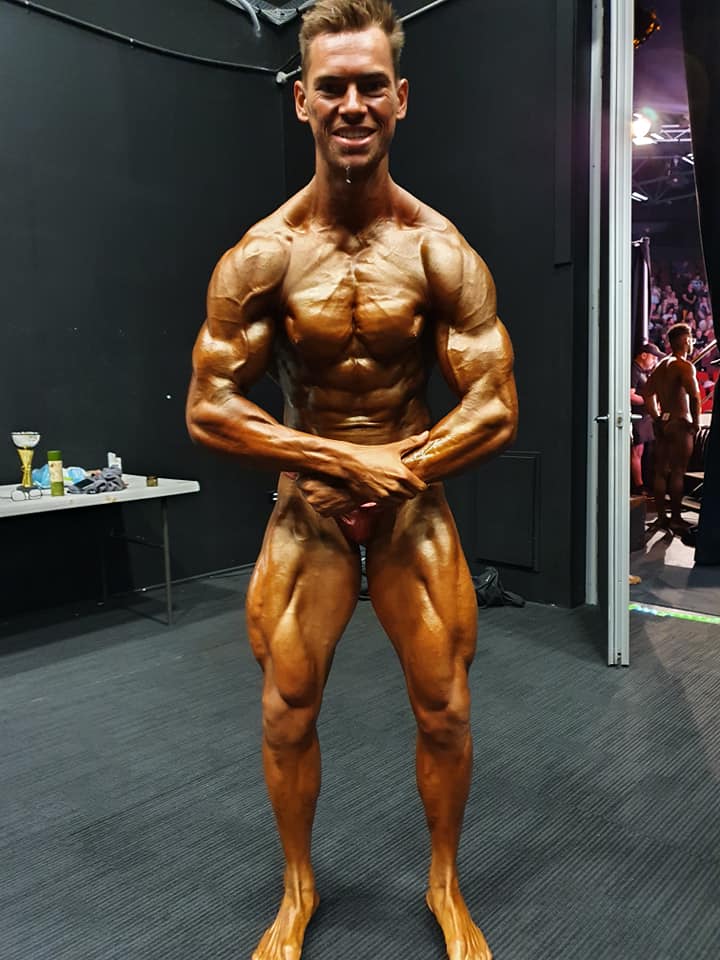 ________________________________________________________
I could not be happier 😁
If you know me personally you would know how much work I have put in over the years to end up with this result🙌
I can not believe how things turned out on the day😊
But coming home with the overall win and a sword ⚔️ was a great way to top off all that work
Thanks too everyone who have helped out and supported me along the way🙏
Including #bkconditioning and the team💪
The best coach in the business, No doubt!
Mikey Peters
ICN QLD Overall Bodybuilding Champion
ICN Tropix Overall Bodybuilding Champion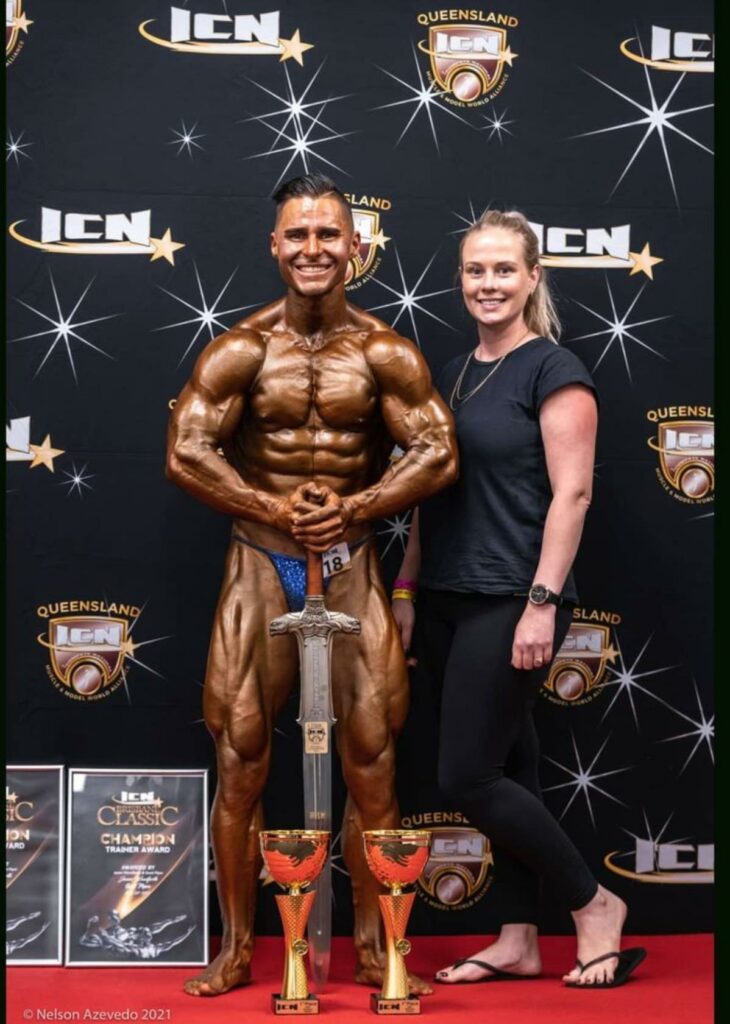 ________________________________________________________
"I had coaches before, but that was nothing compared to him".
I heard about Brandon after my 2nd time competing at the National Titles in Sydney in 2018, where I was posing next to one of his athletes, the one that took the Overall Title won his Pro-Card that night… Damn.. that guy's conditioning was unreal! I was impressed to the point I had to ask how was that even possible naturally, and the answer was always the same: Brandon Kempter.
No surprise when I jumped on his website and recognised the incredible level of conditioning that all his athletes are able to reach! I knew I needed to get in contact with him and I understood straight away that if I needed a coach, that must have been him.
Since I had the first conversation with Brandon, I realised that he has a very deep knowledge of the science behind training and nutrition, he also knows how to relate to people, to share his positive influence, attitude and spirit, he is always there to support, help, motivate, comprehend, adjust and push when needed. It's been amazing to have him next to me before, during and after the competition, when things might get very hard and the pressure is incredible. He was with me in real time, even if we live in different states. This impressed me a lot.
I always think that If you want to reach the top, as a competitive athlete, you have to choose the best, learn from the best, and in my personal experience, that is BK Conditioning in the person of Brandon. 
He is also a very good communicator and understands exactly what I need and ask for; he never tries to put his vision in front of mine, but just next to it instead, to support me and get the best possible outcome. He knows exactly how it feels at every stage of the prep, whether is off-season or on-season, because he has been through it in first person. He practices what he preaches and his incredible stage photos speak for him.
This guy has not only the knowledge, but also the experience to bring an athlete to the best possible condition of his or her life!
I am sure, after less than 2 years working together, that we have just started an amazing journey and I am very excited to keep going, because with Brandon as my coach, I can realise all my goals as a top level natural bodybuilding athlete.
First season together, six times on stage, six victories. I've won everything I could, 3 overalls in 2 different federations… it's unbelievable that from here we can still improve and get better! 
…I just wish I had met him a lot earlier in my career! Stay tuned guys, because the best is yet to come: you will witness something you have never seen before in the world of natural bodybuilding!
WA INBA State Titles Overall Classic Physique Champion
WA INBA State Titles Overall Bodybuilding Champion
ICN WA State Championships Overall Classic Physique Champion
ICN WA State Championships Overall Bodybuilding Champion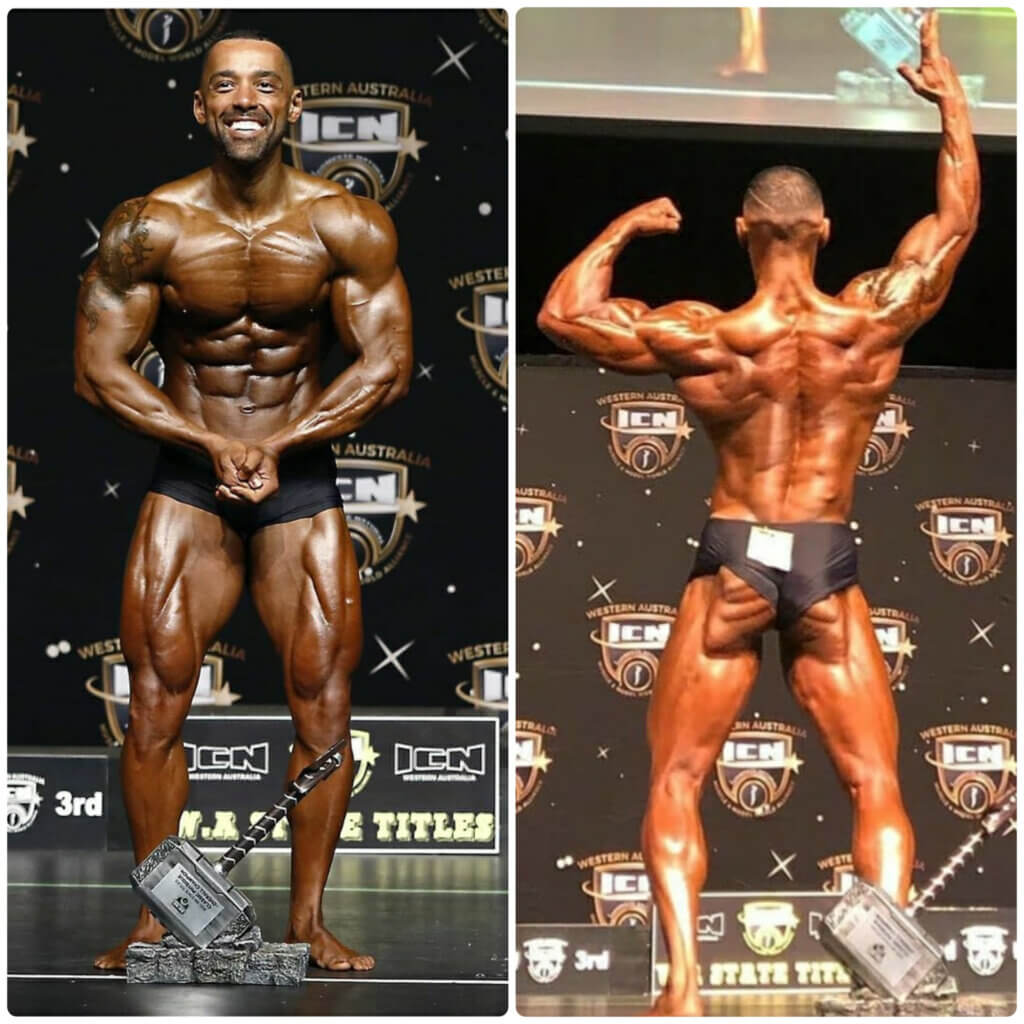 ________________________________________________________
What an experience for myself and family over the last few weeks. First of all I wanted to thank my wife, parents, kids, brother, friends and definitely my coach BK. You all know you played a huge part this comp season. I cannot thank you all enough.
Ben Picman – ICN Pro Bodybuilder
ICN South Coast Classic Overall Bodybuilding
ICN NSW State titles Overall Bodybuilding
ICN Nationals 1st open Bodybuilding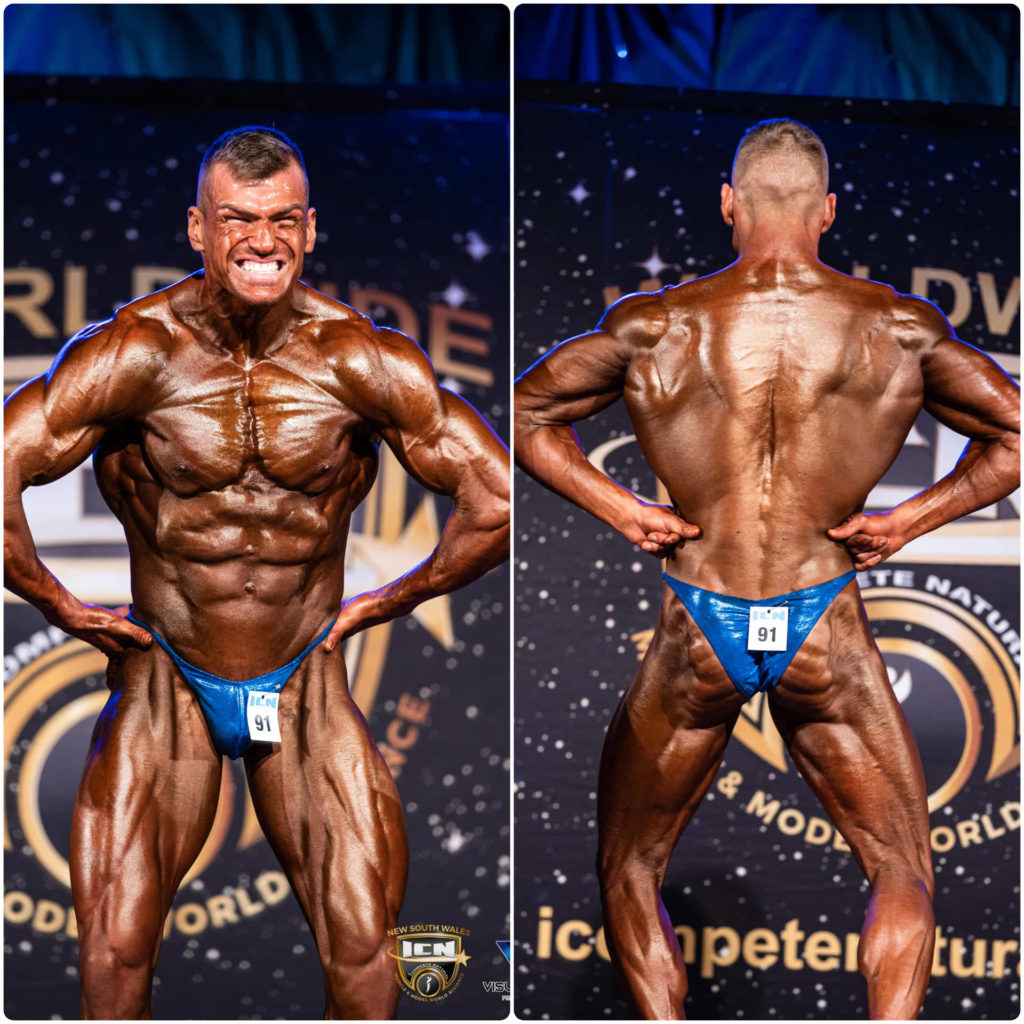 ________________________________________________________
Where do i even begin to start!
First and foremost it is with the greatest smile on face that I say THANK YOU Brandon. Thank you #TeamBK.
In 2016 I took it upon myself to take myself to stage with extremely little knowledge of comp prep, Surprisingly, I managed to get a 2nd place in Mens Physique first timers, 3rd place in Mens Physique 30+, 4th place Mens Physique Novice, but I had also absolutely zero understanding of the human body itself, it's psychological and physiological adaptations I was going through and the changes that were about to take place setting myself up for a very poor recovery/off season.

Not long after that I reached out to BK for some help – Unfortunately that was cut short due to family health issues.
Years had since passed and not only did I see BK grow as a coach, athlete and mentor but his business and Niche was becoming second to none within the industry. During this time I had passed on a client of mine to BK who he turned into an absolute weapon!!!
As these years went on I often wondered the age old question.. "What If"??
Fast Forward Aug 2020 Post Covid I reached out to BK  with 2 thoughts in mind.

I won't get accepted due to his business being inundated with athletes ready for war as covid bans were getting lifted and gyms were reopening.

There have been so many athletes that BK has coached to top tier conditioning, there is absolutely no way on god's green earth will I ever reach a calibre let alone a standard of conditioning that will ever come close to those that have been before me, even if i get accepted.

I distinctly remember the email that came through that there is a spot for me, and the initial consult to follow, I literally could not believe that this was happening.
Many aspects were taken into consideration with my life outside of the gym being a family man and father of 3 and the injuries I had occurred over the years limiting me to certain movements.
BK was as professional as they come with his detailed and very finely tuned application for my prep and so we set off to make magic happen.

I felt very privileged to have weekly face to face check ins as we lived not far from one another and for me that played a huge role in my prep, as going further down the rabbit hole we went energy levels were in need of a kickstart, and that always came in the form of these face to face check ins which would boost me for another week.
I put all my trust into Brandon's hands and followed the procedures outlined for me to the absolute best of my ability.
We did have planned for 2 shows I.C.N Tropix 2021 and Brisbane Classic 2021, as luck would have it another life opportunity stepped into the limelight for me and had to put a halt on one of the shows we decided to hit Brisbane Classic and we gave it a fair nudge.
To this very moment I honestly cannot believe that I reached a level of conditioning that I had reached that I honestly thought was unattainable and also gained more knowledge within the past 40 weeks (length of my prep) that has armed me for a very productive off season.
I would've never have got there if it wasn't for Brandon's approach and absolute belief in me that I could do it. 
To be able to stand on stage amongst some great competitors and be able to walk off and hand BK the "Top Trainer" Award 2 times over in one night meant the world to me.
So it is with the utmost respect to say this to one of the greatest humans amongst the Bodybuilding/Physique community today.
An amazing Coach, an outstanding athlete, an honourable mentor and an all-round great mate.
Thank you.

To anyone looking to further their Physique and knowledge to another level please contact TeamBK ASAP you will not be disappointed only speechless by the end of prep as like many of us were.
Luke Bishara 

* I.C.N Mens Physique Novice 1st
* I.C.N Mens Physique 40+ 1st
* I.C.N Mens Physique Open Class 2nd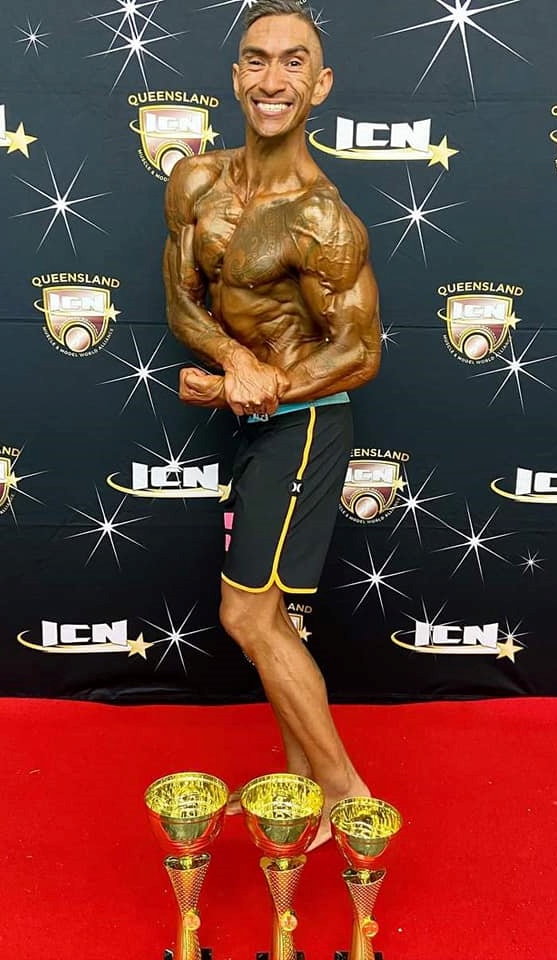 ________________________________________________________
To Brandon, Thankyou sir for your absolute genius mind and masterful coaching and intelligence. Could not have done it without you. I really mean that. Brandon is the epitome of a perfect coach. Besides providing quality coaching, his emotional intelligence is second to none. He even woke up weird times such as 12am and 4am to make sure my mind was at ease and peaked me on point. Full respect, credit and appreciation to you my man! 
Thankyou Brandon for always having my back. 
Ben Hytongue – ICN Pro Bodybuilder
ICN Nationals overall champion
 Bendigo Classic Overall champion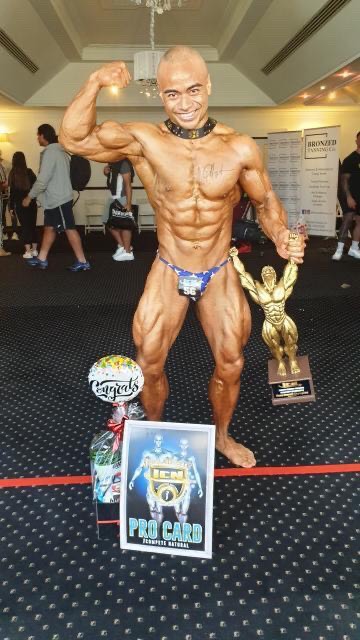 ________________________________________________________
My 2020 prep was a lot lengthier than originally planned due to Covid pushing back shows, having Brandon in my corner was the best decision I could've made. He was always across everything and ensured I presented my best and most conditioned physique to date. Together we managed to win my 3rd Pro Men's Fitness Australian Title and also win my Pro card in Men's Physique. 
I cannot speak highly enough of Brandon both as a person and a coach. His passion for BB and attention to detail across all facets of competition prep is second to none. Whether you're just getting started or are PRO athlete, you will be in very safe and capable hands with this man at the helm.
Scott Morrell – ICN Pro Fitness & Physique. 
ICN Nationals Fitness Pro Overall
ICN Nationals Men's Physique 1st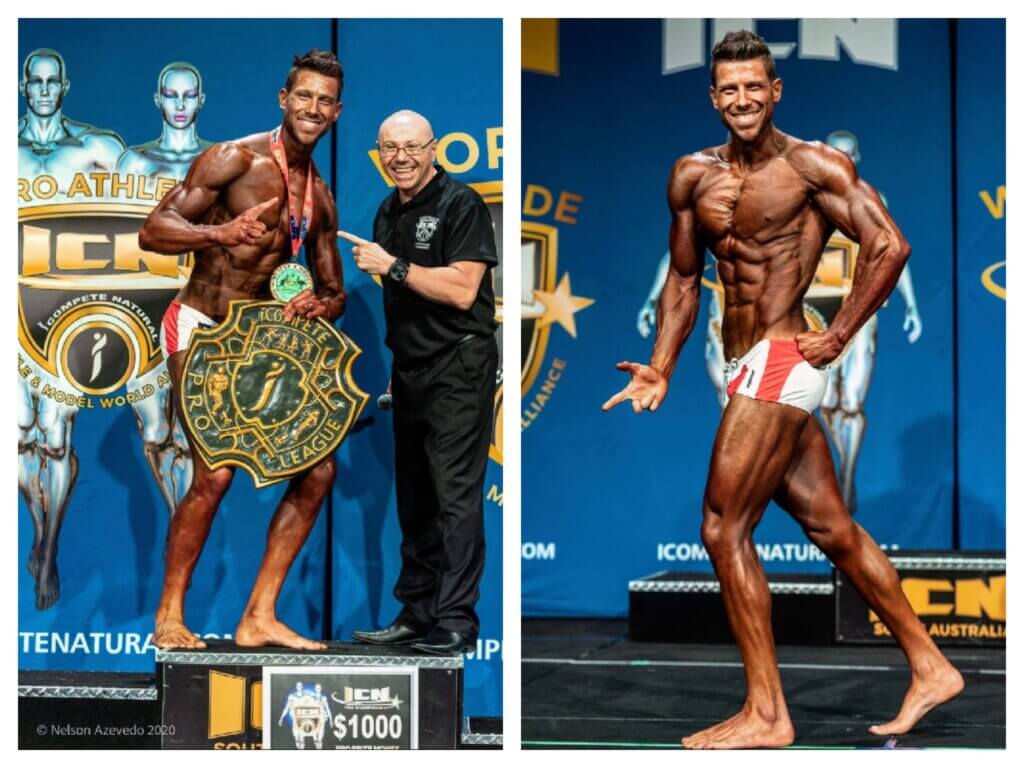 ________________________________________________________
I first got in contact with Brandon in early 2020 via email through his website. He was a coach who came into my attention after his own Incredible 2019 Season B competing as a competitor and also having duties as being coach to his Season B clients. What astounded me was the professionalism Brandon conducted himself, being able to produce his best conditioning to stage with the hard demands of a contest preparation both physically and mentally, whilst simultaneously being able to coach all his clients to their best conditioning and create a force to be reckoned with as a team and have many fantastic results.
I really appreciate Brandon's approach to training programs and nutrition. They were very precise, methodical and easy to understand. It was a matter of ticking the boxes every day and letting the rest take care of itself. I conducted 30+ Weeks in Contest Prep, and with 2020 being the Year of the Corona Virus and having that cloud of uncertainty for the entire year. I was fortunate to be able to compete and have a very successful Season B with him taking many high placings and achieving one personal goal for myself, to win my INBA Fitness Pro Card and an Australian Title which we were successful on by taking out the INBA Team Australia Men's Fitness Overall Title in 2020. But more importantly,I was able to finally stand on stage and have my hand on my heart that I knew I gave everything I had and produced my best conditioning of my life which Is what I really wanted to achieve with Brandon. 
 – John Phil – INBA Pro Fitness
INBA open/overall Fitness
+ Multiple other placings across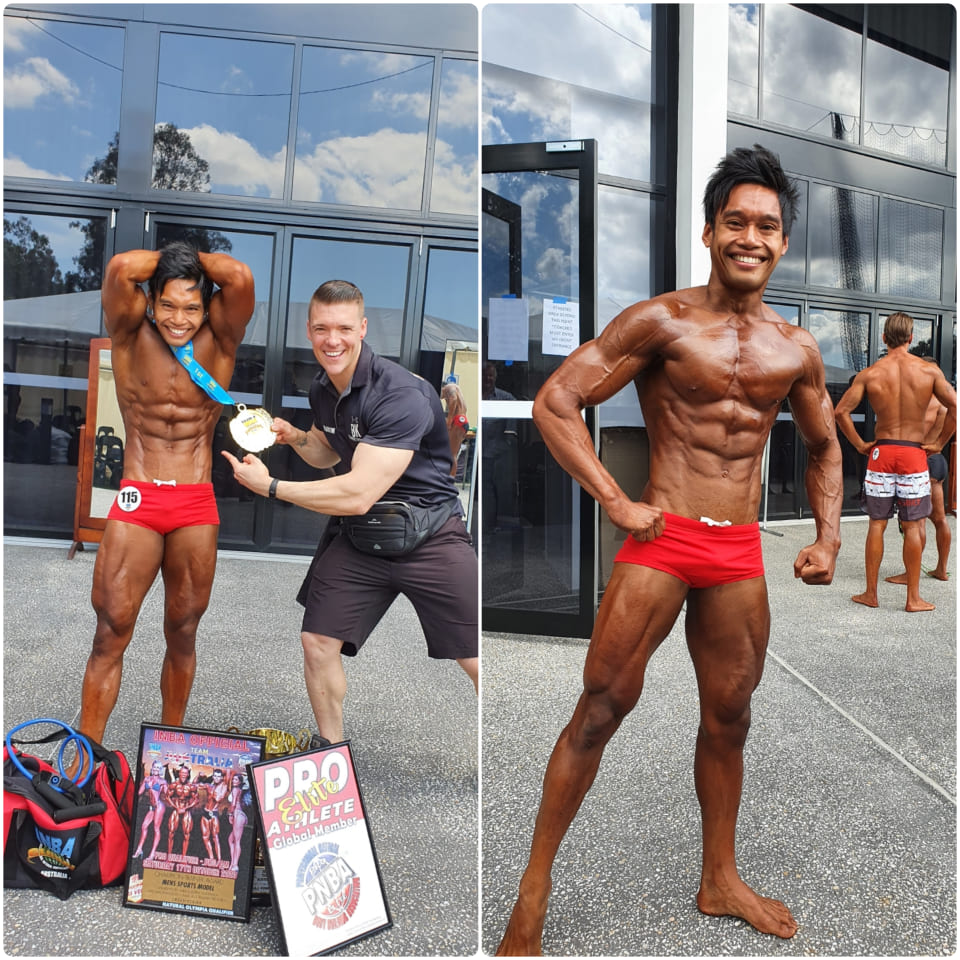 ________________________________________________________
This is about the greatest bodybuilding coach in Australia.
People need to know who this man really is. He is the most passionate and genuine coach you will ever meet. I have known Brandon for over 5 years now. I met him backstage at a competition and since then he has been my coach but also a great friend.
His passion for the sport is like nothing else! He isn't just a coach but a coach that lives and breathes it. He has set the example for his clients with his work ethic and passion for the stage. Brandon has taken my physique to the next level with his knowledge of nutrition and training. I achieved a physique that still blows my mind thanks to him.
To the man himself, thank you for everything you have done for me and thank you for the knowledge you give to the sport. A true gentleman and the real champion!
Liam Cherry – ICN/ANB Pro Bodybuilder
ANB Overall Bodybuilding champion (pro card) 
ICN Tropix Overall Bodybuilding Champion
ICN QLD Overall Bodybuilding Champion
ICN Nationals Overall Bodybuilding Champion (pro card)
IFBB QLDs U70kg 1st 
IFBB Arnolds Novice 3rd
+ 8 additional 1st places over the season not listed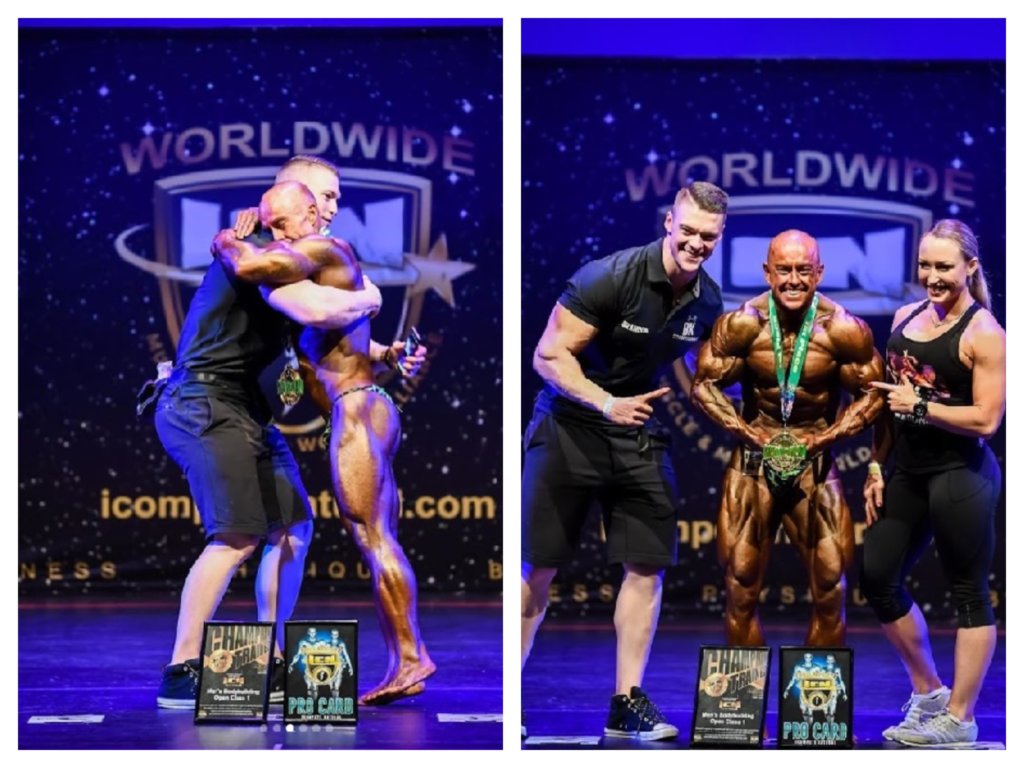 ________________________________________________________
I clearly recall when I first became aware of Brandon and BK Conditioning, it was at the ICN National Championships during Season A 2019. I was competing against two of Brandon's athletes in Men's Bodybuilding and their conditioning was next level! What I now know to be his trademark #bkconditioning. I also clearly recall thinking to myself if I am going to compete again I want to achieve that next level conditioning! Fast forward 18 months to Season B 2020 and I can confidently say by working with Brandon I achieved that ™️ #bkconditioning, achieving what we had set out to do before I even stepped on stage!
It was November 2019 that I signed on with BK Conditioning. I recall during initial discussions with Brandon he said he remembered seeing me on stage during Season A and thought to himself "that's someone I could work with". That's the genuine and thoughtful kind of guy Brandon is, and he knows how to tap into an athlete's psyche to bring out their best, and bring out my best he did!! BK Conditioning results speak for themselves with countless overall champions, pro cards and champion trainer awards. I'm pleased to say I have added to that overall champions tally with two overall champion wins (at two smaller shows) during Season B 2020, achieving my best results in my third competition season (and first with BK Conditioning).
I must admit, when I first signed up with BK Conditioning I had self doubt if I was worthy to be on #TeamBK looking at those who had come before me. But Brandon welcomed me with open arms to the BK family and he had every confidence in me to do my best and to bring my best, which I did surprising myself and exceeding my own expectations with the results achieved. Finally I felt worthy in my own mind, not that Brandon ever doubted me and made me feel worthy from the get go.
Not only is Brandon the best coach in the biz, he is a great person with a maturity and wisdom beyond his years, he is one of those unique and special people you rarely come across in life with an infectious energy that you want to be around. Brandon is one of those coaches who walks the talk and leads by example, having competed at a professional level and winning world titles with his ™️ #bkconditioning and impressive physique that he has developed over 10 years of intense training. Speaking of intensity, I never known anyone with the mental fortitude to train the way Brandon trains himself, no wonder he's a world champion!
Brandon is also well educated in his sport and uses a combination of scientific and evidence based approaches in his coaching. There is no doubt in my mind that Brandon is the best natural bodybuilding coach in Australia and one of the best in the world with international athletes on his books. I would highly recommend BK Conditioning to any athlete, professional or amateur, who wants to take their conditioning and results to the next level. I am continuing to work with Brandon on my journey to the stage for the 4th time as a 50+ competitor in 2023-24… watch this space!
Sean Minto 
 ICN ACT Physique Titles

BB OPEN CLASS 1 2nd place
BB 40+ 2nd place

ICN NSW South Coast Classic

BB OVERALL CHAMPION
BB 40+ 1st place

ICN NSW State Championships

BB 40+ 3rd place
BB OPEN CLASS 1 5th place

NBA NSW State Titles

BB OVERALL CHAMPION
BB OPEN 1st place
BB 40+ 1st place

ICN National Championships

BB 40+ 2nd place
BB OPEN CLASS 1 3rd place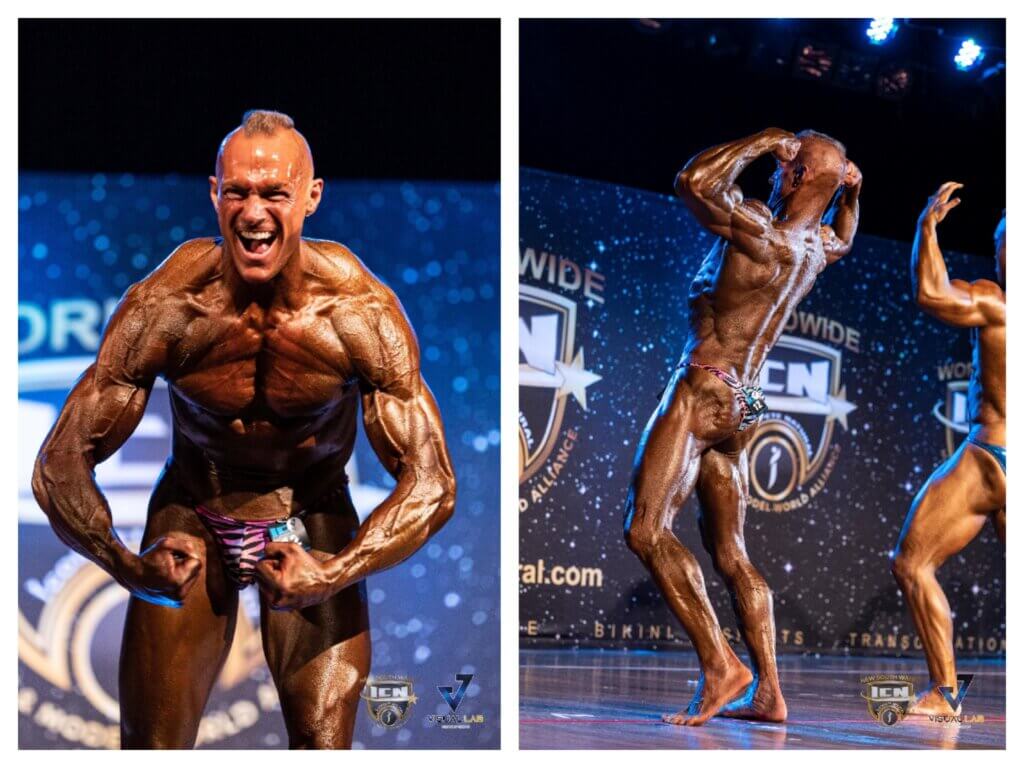 ________________________________________________________
Competitive Bodybuilding has been a part of my life since my first show in 2001. I have always had a strong passion to compete, to be the best I can be and be competitive on stage. All my previous comps, I have prepped myself, and placed well in each of my categories.
As each year goes by, I have noticed that stage conditioning has gone to a whole new level. And to stay competitive, we must follow the times. As a seasoned athlete, I knew I required the help of a coach to bring out my absolute best conditioning, in order to accomplish this.
At the 2018 ICN Queensland State Titles I met Brandon for the first time. First impressions last for me, and knew he was the right coach to help reach my goal of competing in 2019 Season B and bringing the level of conditioning I envisioned. In late October, we started working together in my offseason to work on my weak points and pack on as much muscle as possible before starting comp prep.
Nothing was ever an inconvenience for him, and always responded to my questions (which were a lot) and weekly check ins as soon as he could. As a result of working together as a team, we were able to bring my best conditioning ever to the stage, while maintaining as much muscle retention as possible. I never thought I could reach that level of conditioning, and definitely exceeded my expectations tenfold. I still look at my stage shots and can't believe that's me.
Lewis Pepperell 
2019 ICN QLD STATE TITLES
1ST MENS BB 40+
2ND MENS BB OPEN U/72KG
2ND MENS BB OPEN CLASS 1
2019 ICN NATIONALS
2ND MENS BB 30+
3RD MENS BB 40+
3RD MENS BB OPEN CLASS 1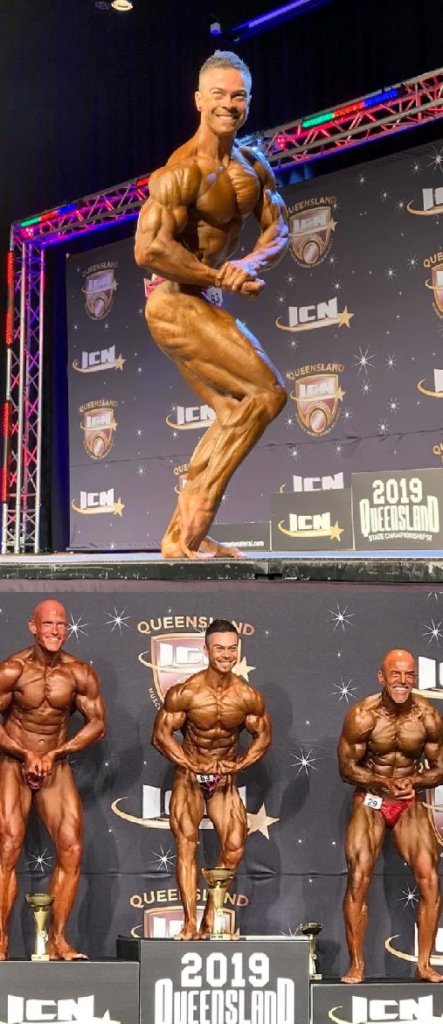 ________________________________________________________
_____________________________________________________________________
I was truly blessed to be a member of team BK for close to three years leading up to and
including my 2019 competition season.
I truly fell on my feet when I found Brandon Kempter and together we managed to pull off an
incredible off season and competition season that saw me realise my dream of becoming a pro
natural bodybuilder with ICN.
To work with one of the most renowned coaches in natural bodybuilding was truly an invaluable
and unforgettable experience.
Brandon's vision and ability to exploit the very best from every athlete he coaches has greatly
influenced the evolution of the sport of natural bodybuilding and is testimony to the incredibly
high standards he holds for himself and his athletes.
Anouska Lunau
2019 ICN Tropix
1ST Miss Figure
Overall Figure champion.
2019 ICN QLD Championships
1ST Miss Figure
Overall QLD Figure champion.
2019 ICN National Championships
1ST open Figure + pro card qualification.
2019 ICN World Championships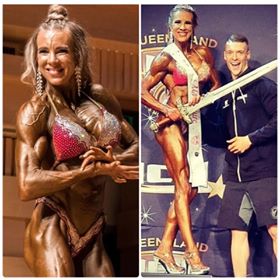 _____________________________________________________________________
Wow what can I not say good about the amazing coach that is Brandon Kempter from BK conditioning, firstly thank you for taking me on board and guiding me in the best prep that I think I've had in my 12 yrs of competing in figure division . This time was different, I was strong physically and mentally the whole time, and I loved every minute of it, this has a lot to do with Brandon and his firm drive, but compassionate heart and soul. I have known Brandon since 2014 through coaches and comps and have always been impressed by his dedication and determination to get everyone of his athletes the physique of there dreams , with the best prep , guidance , and less stress attitude which helps you achieve so much more ,  while keeping his athletes determined no matter what happens , during this covid year of 2020, it was one of the most uncertain times to compete , but together we pushed  through stayed determined and got on stage 4 x times in this season b 2020 and achieved great results. I am so grateful to Brandon for helping me achieve great results and supporting me the whole way even when covid changes were challenging him as a coach as well , but we hung in there stayed positive and consistent this was definitely key to staying on track , also the team of BK were so supportive all the way , getting messages of encouragement from other team members even though we didn't know each other was definitely gold in terms of keeping on track , to be apart of this team made me feel supported , which helped me get down to the  business end and get the best physique i had to date ( this being my 25th comp in 12 yrs ) . I will definitely be back in a few years to get an even better physique with Brandon and BK conditioning. Thank you for teaching me more and guiding me all the way.
  I am forever grateful
What we achieved this season  B 2020 
PNBA/INBA PRO WOMENS PHYSIQUE 3RD PLACE 
ICN PRO FIGURE 2ND PLACE 
NBA INTERNATIONAL FIGURE 1ST PLACE
NBA  FIGURE TALL 2ND PLACE
NBA FIGURE MASTERS 2ND PLACE
MS FITNESS PRO FIGURE 2ND PLACE
MS FITNESS PRO CLASSQUE FIGURE 2ND PLACE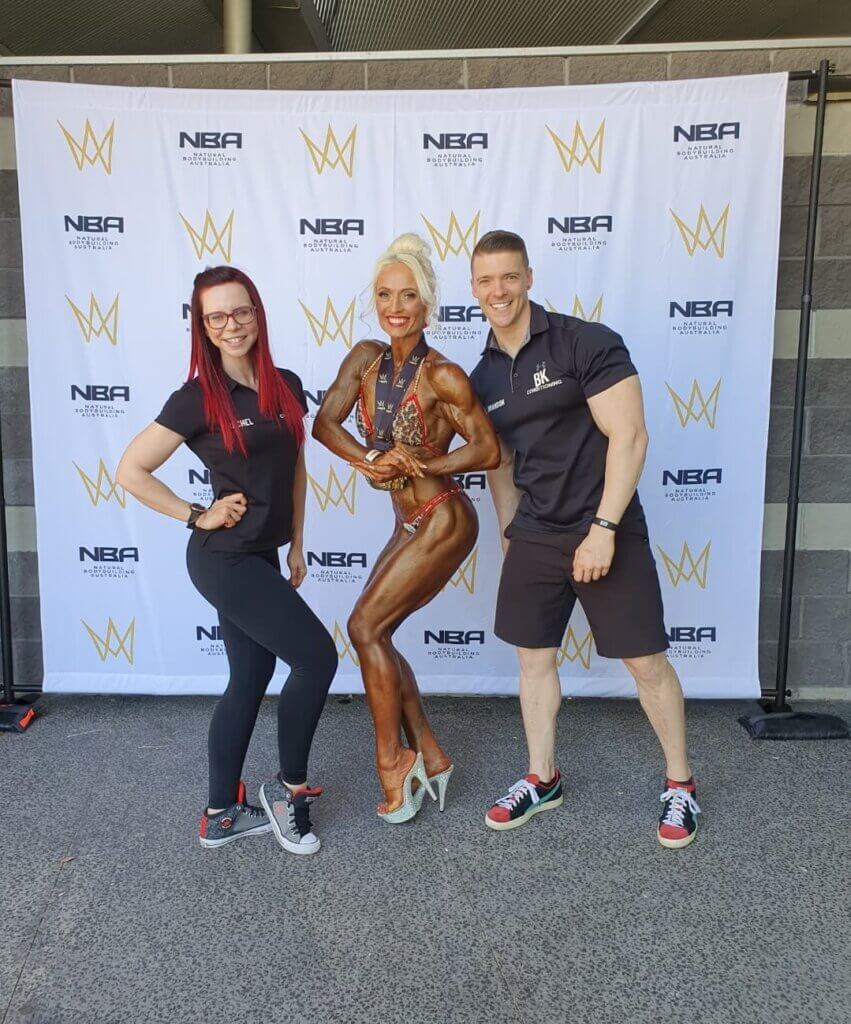 ________________________________________________________
So lost for words, I have officially achieved one of the biggest goals in my bodybuilding career. Not only becoming an ICN PRO, but becoming the official Mr Australia!!
To my brother Anthony and brother/coach Brandon, I am humble and grateful for the both of you being there at the hardest of times. The love respect I have for you boys is truly indescribable.
Dominic Patrizi
2019 ICN ACT STATE TITLES
1ST open BB
Overall BB champion.
2019 ICN NATIONALS
1st Junior BB
1st U72kg
1st BB open
Overall champion – Mr Australia + Pro card.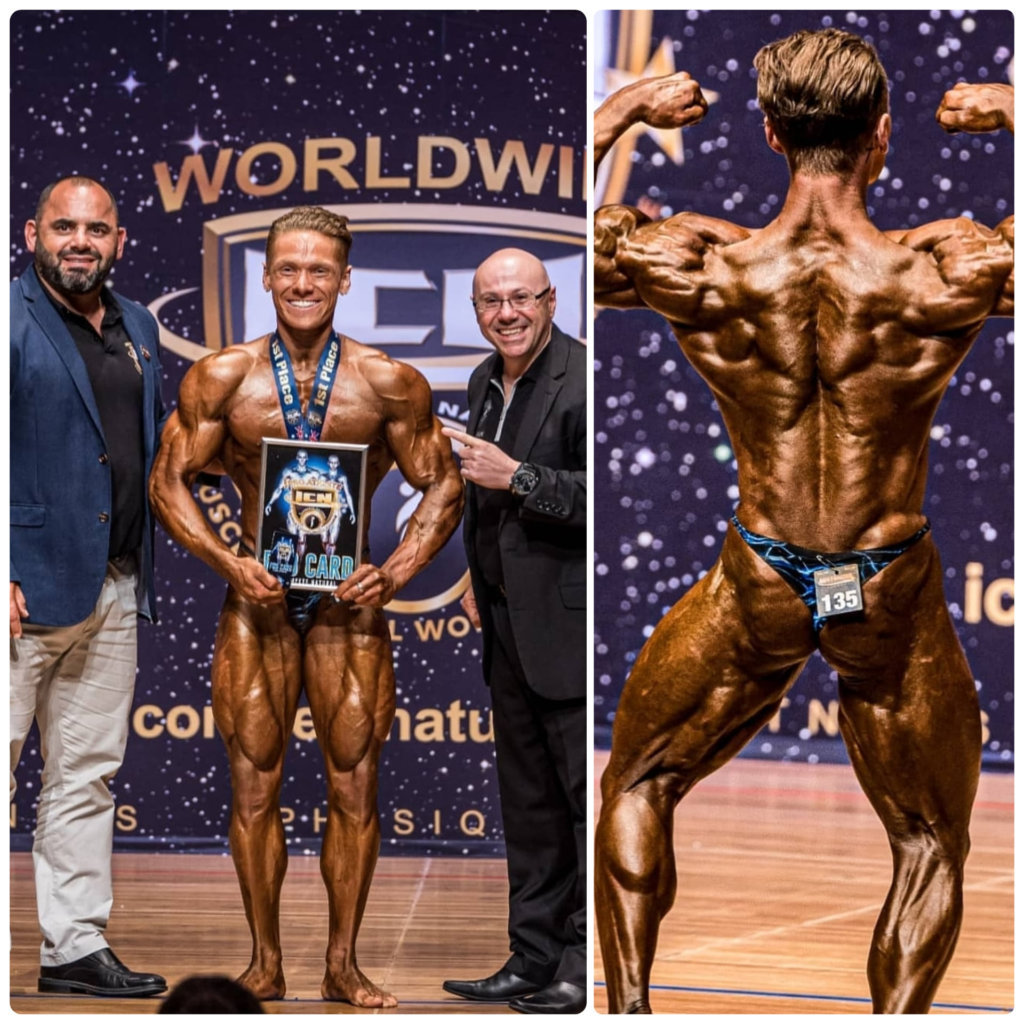 ________________________________________________________
We did it!

I cannot ask for a better result! I was very happy with the package I brought to the stage.
Firstly, I want to thank BK for nailing my conditioning and taking me to a top level athlete and helping our entire team out backstage. I have massive respect for this man!  
Jason Wang
2019 ICN TROPIX
2019 ICN QLD CHAMPIONSHIPS
2019 ICN NATIONALS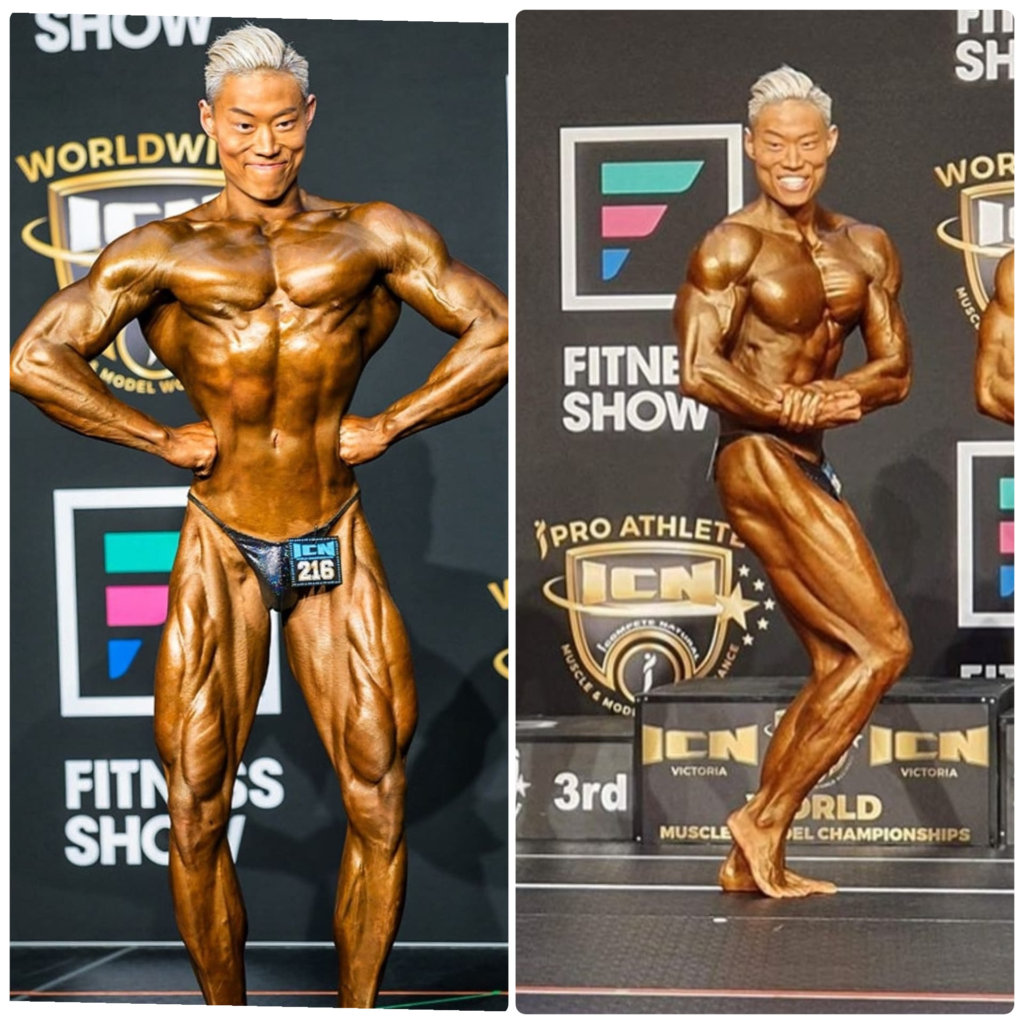 ________________________________________________________
It has been a huge pleasure working with Brandon leading into my first show!
I was totally surprised with the physique we created, as it exceeded my every expectation!
Given this was my first season, I did not have much knowledge about nutrition and competition, but I can say Brandon is amazingly knowledgeable in within the sport. He calculated my personalised training/nutrition programmes for me based on science and the results followed. His passion and care, for both myself and our team is so appreciated. He is a real professional.
Jacob Kim (QLD Fitness Champion)
2019 ICN QLD CHAMPIONSHIPS
1st Fitness Novice
1st Fitness open 
Overall Champion fitness.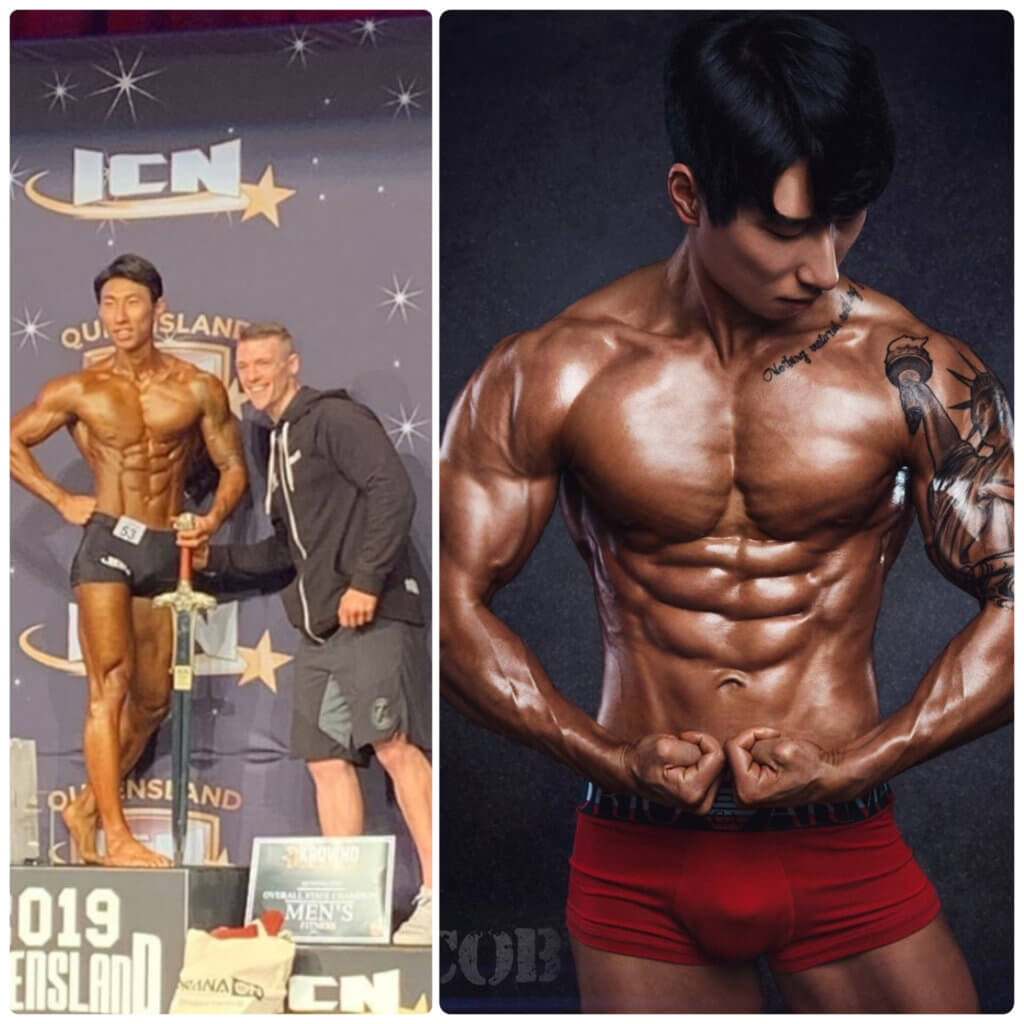 ________________________________________________________
Adding to the words of Mr Australia himself Liam Cherry,  this is about the greatest bodybuilder/bodybuilding coach in Australia Brandon Kempter.
When natural bodybuilding is mentioned, you can bet this man's name isn't far behind it. He lives and breathes the sport. the whole process, the lifestyle, the highs, and the lows. He simply loves everything bodybuilding and truly embraces the suck when need be!
I took a leap this year into the unknown with Brandon, and with his guidance I achieved things I'd never thought possible with my physique and training. From nutrition, to training techniques, to comp days, he's ALWAYS there to help and won't ever let you down.
I couldn't have asked for a better coach, or a better friend. Originally I was afraid to take the step into bodybuilding as it's vastly different to any sport I've ever partaken in. However, it's safe to say I won't ever look back and the love for the sport now flows through every inch of me – heavily influenced by the passion of my coach, his better half (Rachel) and all of Team BK.
Thank you for everything mate. Never in my wildest dreams did I think I could achieve what I did this year. I can't wait to see what the future holds and see what we can do next! you are truly a champion in every sense of the word.
Alex Brown – NBA Pro Men's physique, ICN Tropix Men's Fitness Overall Champion
2019 ICN Tropix
1ST Men's Fitness novice first timer
Men's Fitness Overall Champion
1st Men's physique novice
2019 ICN QLD Championships
1st Men's physique Novice
2019 NBA QLD Championships
1st Classic Physique
Classic Physique Overall Champion
1st Men's Physique Open
Men's Physique Overall Champion (Mr QLD Title + Pro card qualification)
+ additionals titles unlisted.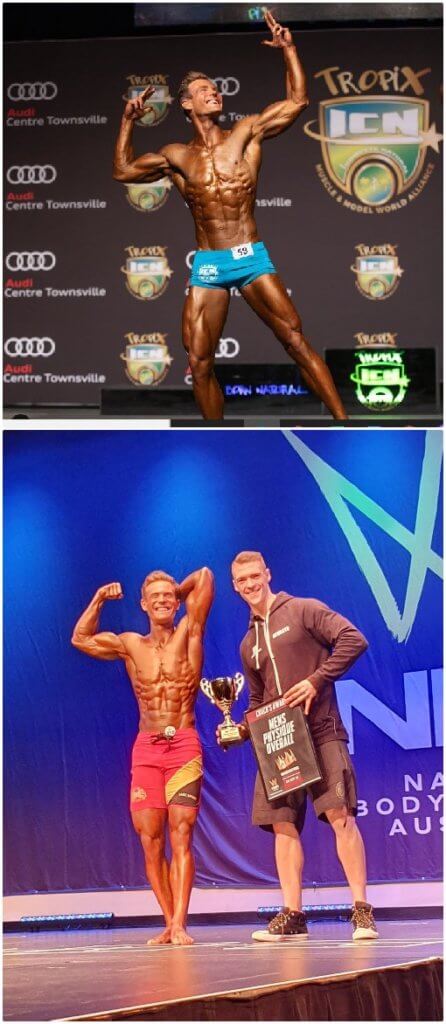 ________________________________________________________
In the sport of bodybuilding, physique improvement is the ultimate goal for every athlete and this season we have accomplished that by 110%. Never in my bodybuilding life did I ever imagine myself achieving this kind of physique and I couldn't have done it without the legendary BK!
The passion and love you have for this sport goes beyond. You do not only help an athlete to get on stage but you work very closely with each athlete and you exceed their expectations (especially mine) and for that I'm proud to have you as a coach.
Zee Dennis – ICN Pro Bodybuilder
2019 ICN Worlds Titles 
1st Open Bodybuilding (Pro Card qualifiction)
2019 ICN National Titles
+ additional titles unlisted.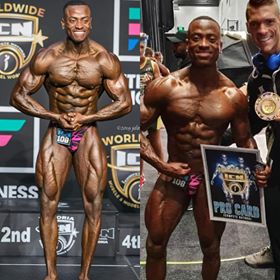 ______________________________________________________________________
I have been a part of this amazing team for about a year and loved every moment working with Brandon Kempter.
I competed in season A, taking out 13 of the categories I had entered with 2 overall show wins and also received my Pro card at the City Nationals in Sydney. We had a total of 44 weeks of competition prep in total and honestly it was an amazing and life changing experience!
Brandon has not only got me into the best condition of my life but also educated me during the whole comp process in regard to training, diet and also bodily processes as we got closer to showtime.
Uncertainty was a massive worry in my prep and honestly Brandon made it all work, as the weeks progressed I started to settle as I got closer to show time. The best thing I learnt with Brandon was that 'you have to trust in the process' and it will all come together.
The weekly check ins were so thorough and if I was unsure it was always nice to get such an in-depth answer. Honestly it is like I was catching up with a doctor each week! Just so professional, a true gentleman and so passionate about the sport and it certainly rubbed off on to me during the prep!
I love bodybuilding so much and I will continue to do it for the rest of my days, it has taught me to create structure in my life, to always be prepared for anything, determination, how to stay mentally strong, drive, gratitude, to never give up even when it gets hard and lastly to surround yourself with a good support network and people who have similar goals or ambitions!  That's why I appreciate all that Brandon has done!
Anthony Patrizi -ICN Pro Bodybuilder
ICN City National Championships  Open 1st
ICN City National Championships  U77kg 1st
ICN QLD Championships  Open 1st
ICN QLD Championships  U77kg 1st
ICN QLD Championships  Junior 1st
ICN Tropix Open 1st
ICN Tropix  Junior 1st
ICN Tropix U77kg 1st
ICN Tropix -Rookie 1st
ICN Canberra Titles  Overall Bodybuilding champion
ICN Canberra Titles  Opens 1st
ICN Batemans Bay  Overall Bodybuilding Champion
ICN Batemans Bay  Open 1st
NPA Oceania Overall Champion (pro card)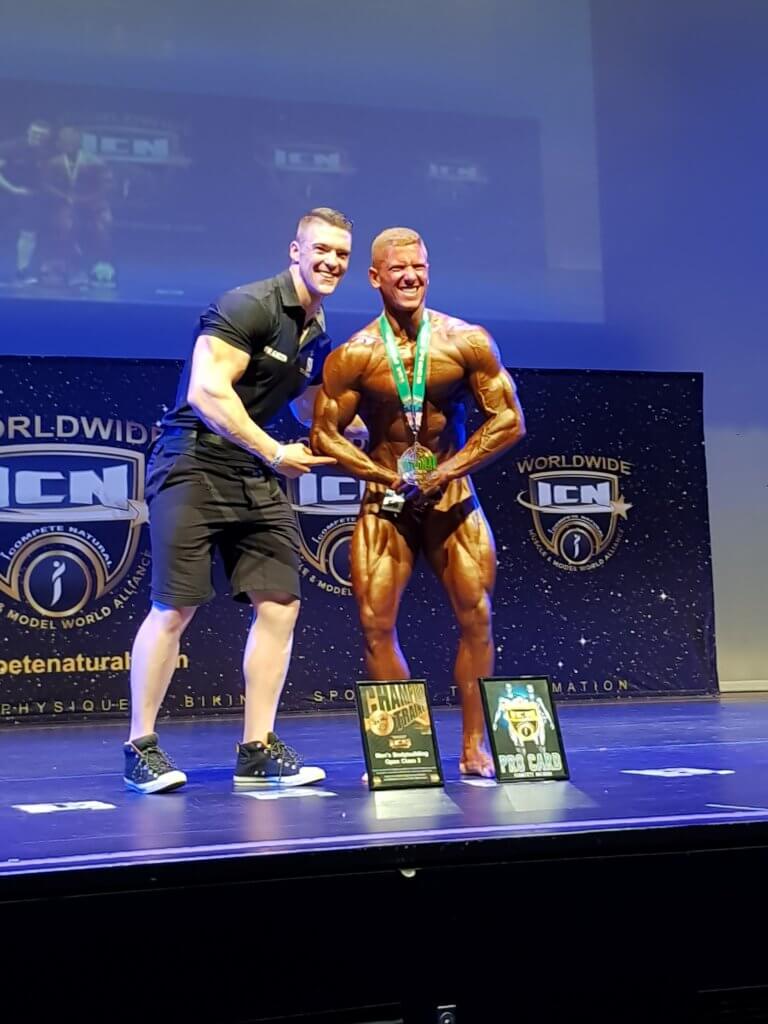 __________________________________________________________________________________________________________________________________
Thank you for your support and guidance as a coach over the past 28 weeks. Your ability to push, drive and guide your athletes towards success is outstanding and your passion for natural bodybuilding inspires and motivates all of your athletes. I am always very proud to represent BK conditioning.
Matt Mitchelson 
2019 ICN QLD Titles 
2nd Open Physique
2nd Physique 30+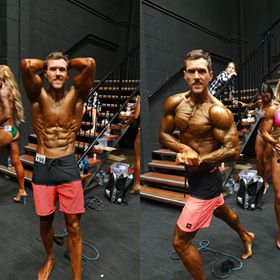 ___________________________________________________________________________________________________________________________________
After watching certain BK athletes compete in the ICN shows for season B 2018, I knew there was a reason why I wanted to engage Brandon to coach me for a competition preparation phase. I had been wanting to compete for a number of years, and I made sure I did my due diligence when it came to selecting the right coach. I knew straight away after seeing his work and results that Brandon would bring out the best in me.
 As I had never competed before I was excited and nervous at the same time, but he had put me at ease right from the start. His methodical, systemised and structured approach made it so easy for me, he took the guesswork out of it by always being 3 steps ahead. Brandon truly is exceptional at what he does with the art of coaching. He never sleeps until he makes sure either my nutrition updates go out, his response to my check ins are delivered and always making sure that any personal messages to me are delivered on time, or at best speed. 
Brandon and I did numerous shows together where he'd prep me backstage, titrate and prepare me which gave me supreme confidence knowing I'd be fully prepared. Brandons enthusiasm and boundless amounts of passion shines through what he does. He never skips a beat. I also not only have the privilege of having Brandon as my coach, but I've also made a life long friend in him aswell. I am proud to be a BK athlete.
Chris Graf – NPA Pro Bodybuilder 
NPA Oceania Overall Champion (pro card)
NPA Darling Downs Overall Body building Champion 
NPA Darling Downs Open 1st
NPA Darling Downs Novice 1st
NPA Darling Downs First timer 1st
NPA Darling Downs First timer 1st
ICN QLD Championships O77kg 1st
ICN QLD Championships Open 2nd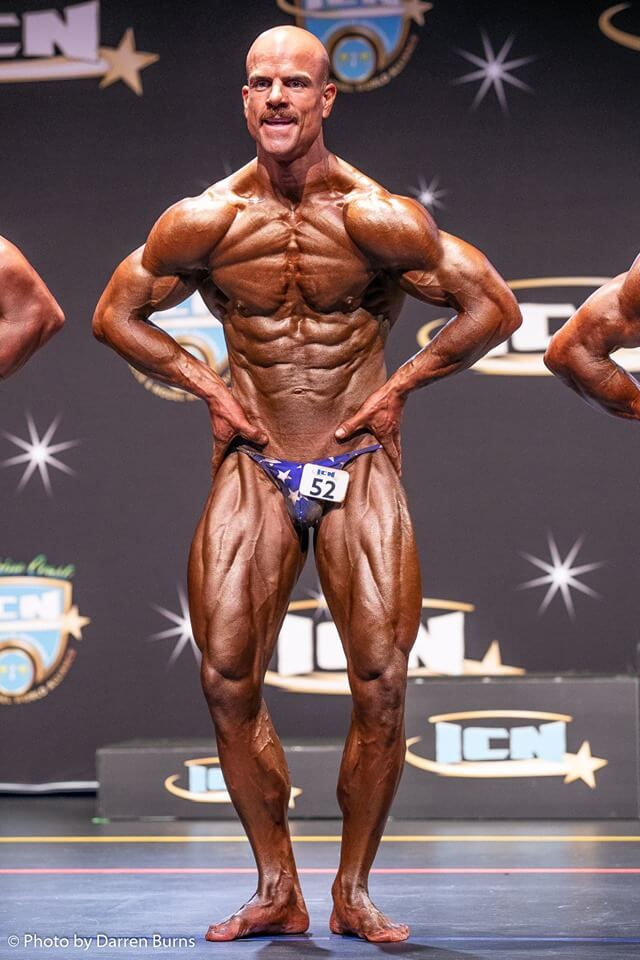 __________________________________________________________________________________________________________________________________
I would like to thank my coach Brandon. 
I believe he is one of the most experienced and committed bodybuilding coaches in Australia. Brandon is focused on helping me achieve my goals and makes every session challenging and somehow fun and I've seen great improvements in my stage physique. He is extremely reliable and knowledgeable, motivating and encouraging. I would highly recommend Brandon in a heartbeat the professionalism and passion for what he do is second to none. 
NPA QLD Over 40 BB 1st
NPA QLD U70kg 1st
Oceania over 40 1st
Oceania over U70kg 1st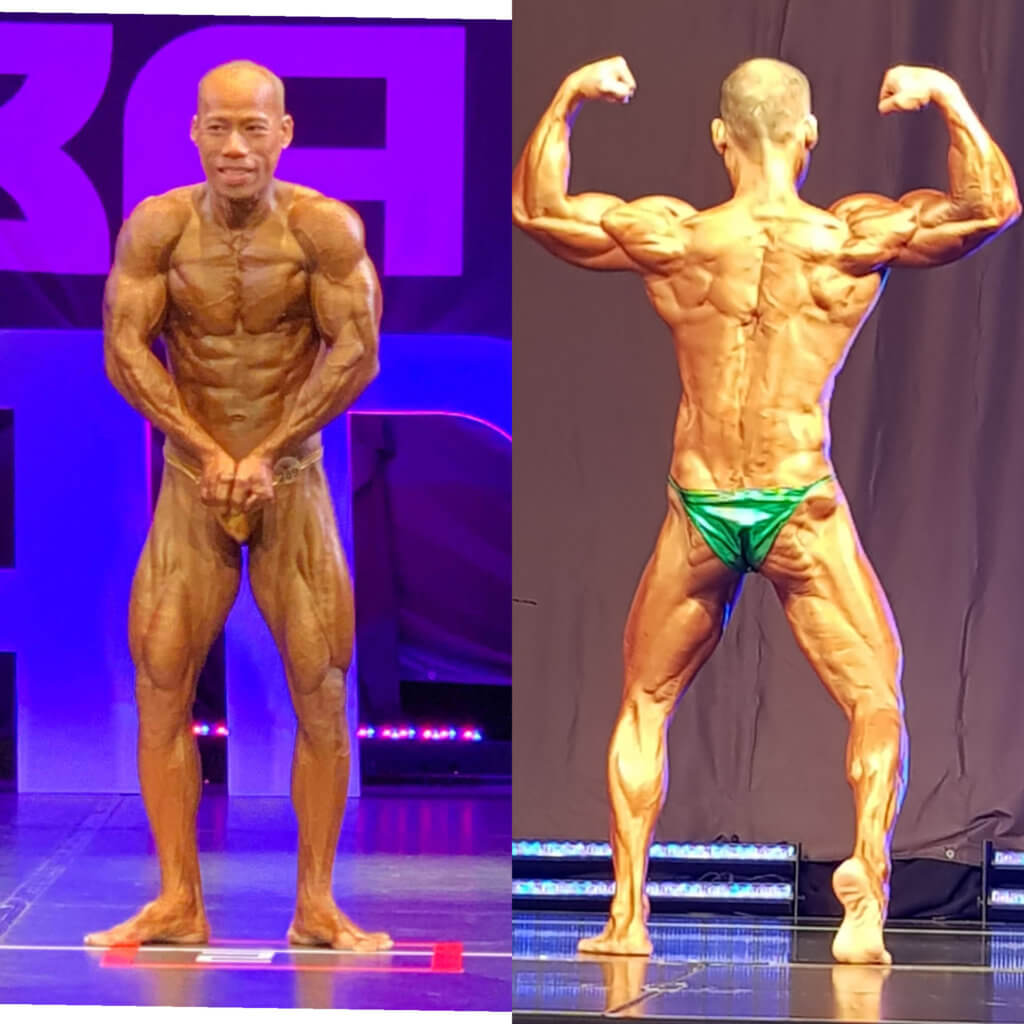 __________________________________________________________________________________________________________________________________
Thank you to my superhuman Coach Brandon. With his unbound patience, understanding, knowledge and experience.
I know without a doubt I brought my best stage package this season.
Andrew Young – ICN Pro Fitness 
ICN Southcoast Classic 1st fitness
ICN Southcoast Classic Fitness Overall Champion
NPA Sydney Physique open 1st
NPA Sydney Physique Overall Champion
ICN Nationals Fitness open 1st
ICN Nationals Fitness Overall Champion (pro card)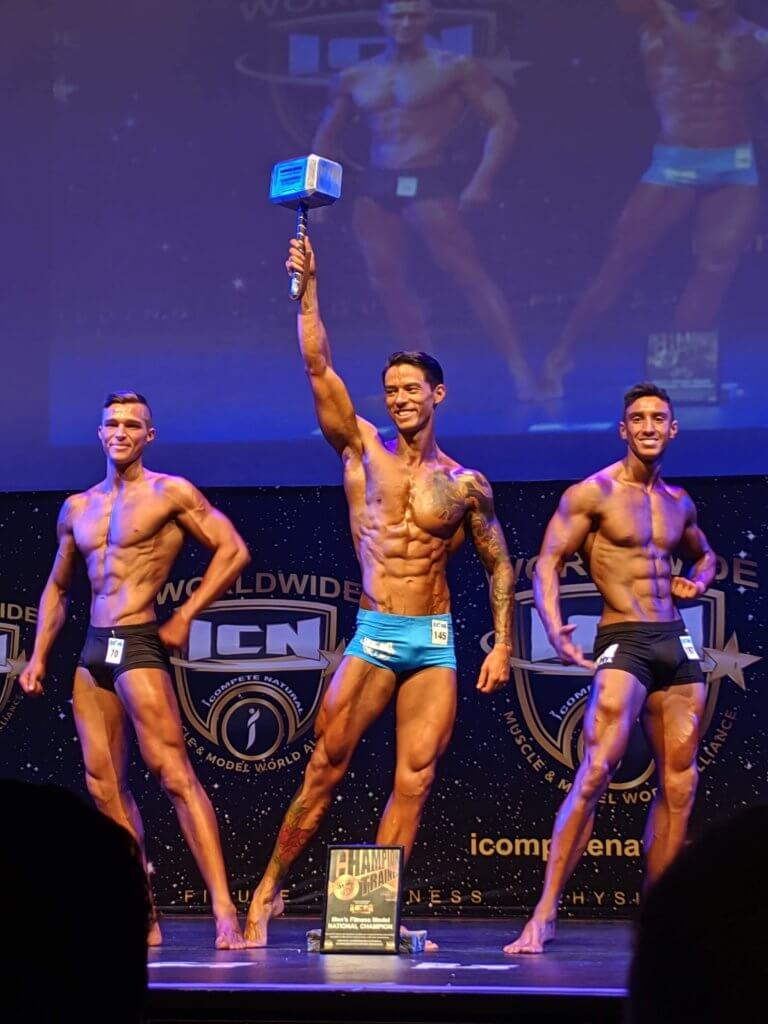 ___________________________________________________________________________________________________________________________________
A Rival, A Mentor, A Coach and A Best Friend. I first met Brandon in 2016 where we shared the stage together. Not happy with my results that year I got in touch with Brandon and started planning for 2018 but before I needed a good 3 months holiday. On my return I was hungry to start work with Brandon. Straight away I was blown away with the wealth of knowledge as well as the attention, effort and personalisation that went into his work. I knew that the nutrition and training I was recommended was science based, unique to me, my goals and my lifestyle. I found that following all his recommendations that my prep period this season was the most enjoyable prep I've ever had. Over the past 18 months every question, any injury and any adjustments to lifestyle I had was attended to leaving no stone unturned. I believe this attention to clients is very rare and helped me bring the best package to stage that I could ever have dreamt of. Currently we're working together to reverse diet and bring my physique back to a healthy maintenance level before the Christmas season.
Nick Brown
ICN Tropix Junior champion 1st
ICN Tropix Open 2nd
ICN QLDs Open BB 2nd place
ICN QLDs Open BB 2nd place
ICN World Championships Junior champion 1st
ICN World Championships Open BB 3rd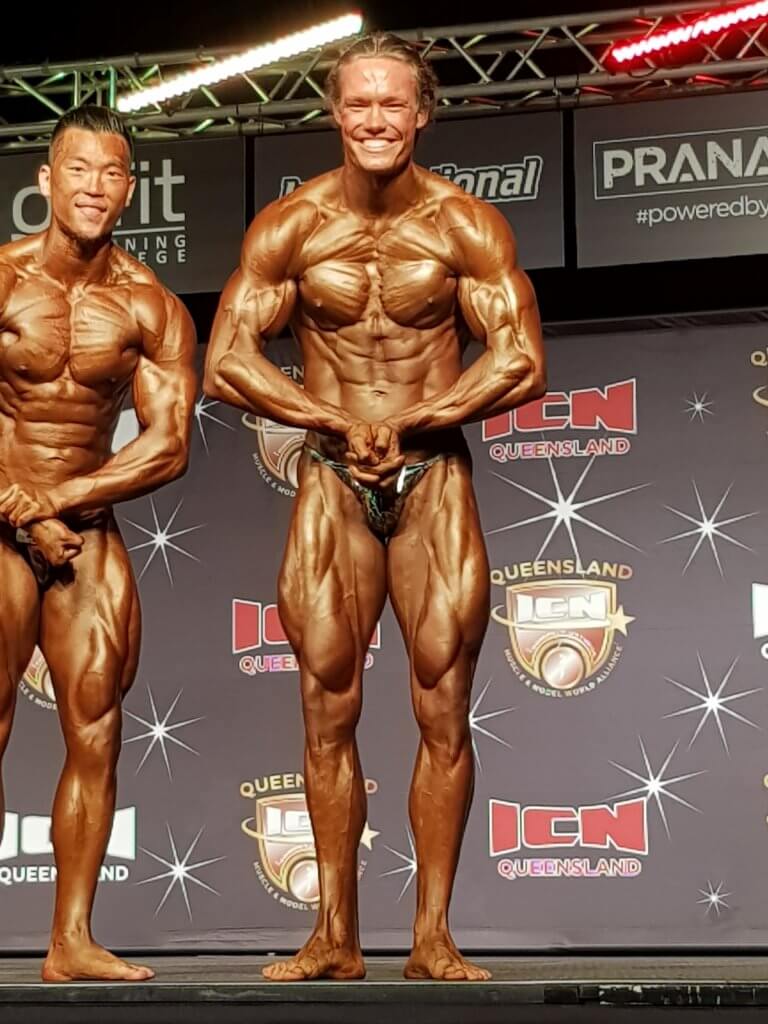 ___________________________________________________________________________________________________________________________________
I can't show my thanks enough for the support and encouragement of Brandon and the whole BK squad!
Brandon is one hell of a coach and an even better human being. Not only is he one of the most respected nutrition and body composition coaches out there, he always has an outstanding ability to deal with any stressful situation in the most effective manner.
Dylan Eve
INBA Brisvegas Teenage champion 1st
ICN QLDs Open 2nd
ICN U72kg 2nd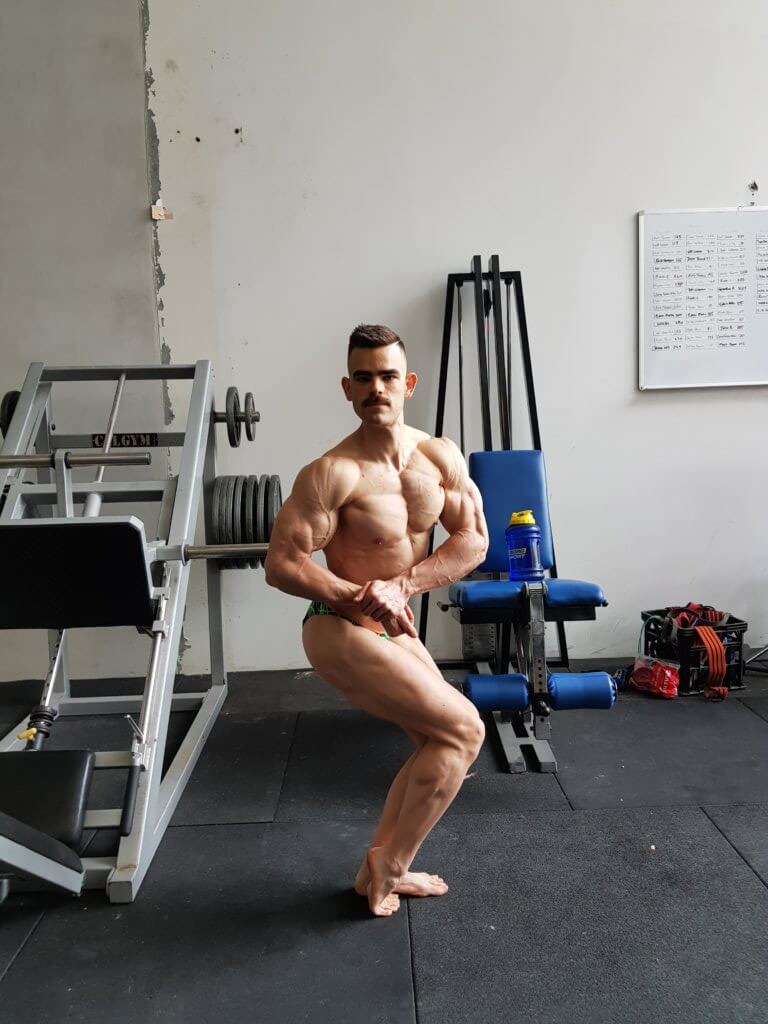 __________________________________________________________________________________________________________________________________
So glad to have had Brandon in my corner this preparation. We brought one hell of a physique to the natural stage this season, better than I could have asked for.
Alex Emery
ICN Canberra Titles open bodybuilding 3rd
ICN Sydney Titles open bodybuilding 3rd
ICN Nationals open bodybuilding 4th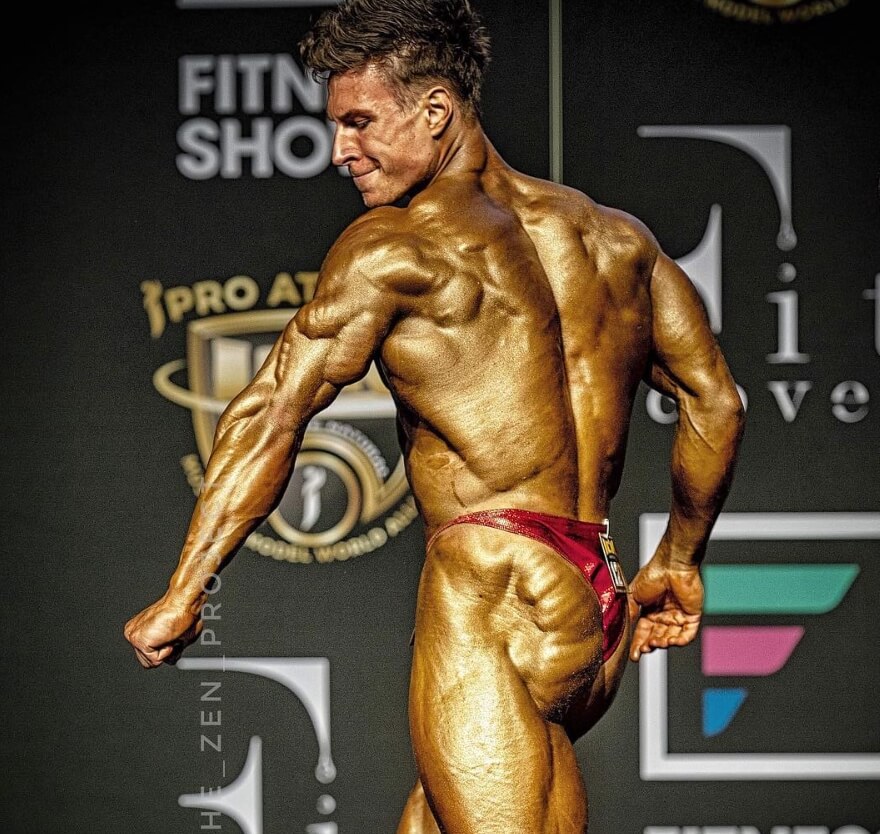 __________________________________________________________________________________________________________________________________
I have been working with Brandon for almost a year now after approaching him asking if he could help me prepare for my first physique competition.
I have learnt more about effective training and nutrition in the last year than the previous 8 years spent in the gym. Brandon helped me win all five divisions I entered over my first two competitions and provided me with all the information I needed before I got on stage.
As I spend most of my time working away from home I am pretty much solely an online client and Brandon is always available to answer any questions and to keep me on track with my goals.
I would definitely recommend Brandon to anyone who wants to smash strength goals, get shredded, compete or just learn from his expert knowledge which he backs up by science and the latest research.
Scott Hamilton – Pro Mens Physique
INBA Tropix Men's Physique Overall Winner 2016
INBA QLD Classic Men's Physique Overall Winner 2016
INBA QLD Championship Men's Physique Overall Winner 2016
INBA Pro Card winner 2016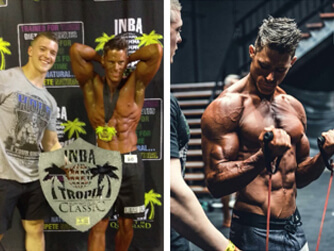 I first met Brandon at ICN Brisbane where I competed against one of his clients. He came across very professional and his client was in peak conditioning. I realised then I wanted Brandon to be my coach. The more I got to know Brandon, I realised that his knowledge and professionalism was second to none. Brandon loves what he does and it shows though his dedication to the fitness industry.
During my comp prep I worked with Brandon face to face and online when I moved away. He has an excellent system in place which made it easy and straight forward.
With Brandon's help I brought my best conditioning going into my bodybuilding comp and successfully won my division and overalls. I now consider Brandon as my friend and look forward to seeing what we can do in the future. I highly recommend Brandon for all your fitness and dietary needs. 
Todd Richards
ICN Gladstone Overall Body Building Champion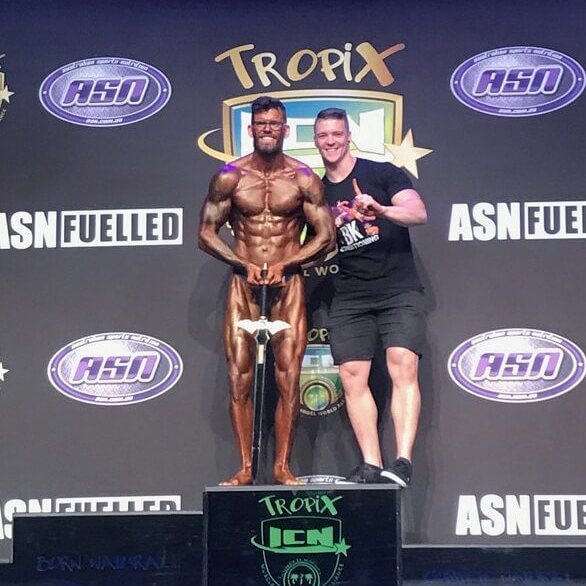 I have been training and coached by Brandon Kempter since 2013 and I have never looked back! The progress that I have made in terms of strength, muscle size and overall physique is incredible.
I have been preparing for INBA Tropix and Brisbane show (Bodybuilding competition) as a first timer for about 8 months now and with Brandon's support and guidance in each step of the way, I managed to place in all of my 5 categories including 1st place in my height category and the most potential award.
He is currently helping me with post-comp reverse diet, off season nutrition with his flexible dieting principles and overall physique development.
His approach to nutrition and training is all science based and he has proven himself by not only preaching but also applying to himself and to all of his athletes. He does what works for you in the healthiest and best way possible and that is why Brandon is one of the best natural athletes and coaches in Australia.
Furthermore, his love, passion and care for his clients are like no other. He will put you first and help you through tough times to achieve your goals and to be in the best shape of your life!
I made mistakes and wasted a lot of my years just lifting with 'bro-science' approach. I wish that I met Brandon earlier and done it right the first time. So do it now and become part of our team but more a FAMILY!
Ji Choi
ICN Worlds open Champion 1st
ICN QLDs U77kg Champion 1st 
INBA Tropix Open 3 champion 1st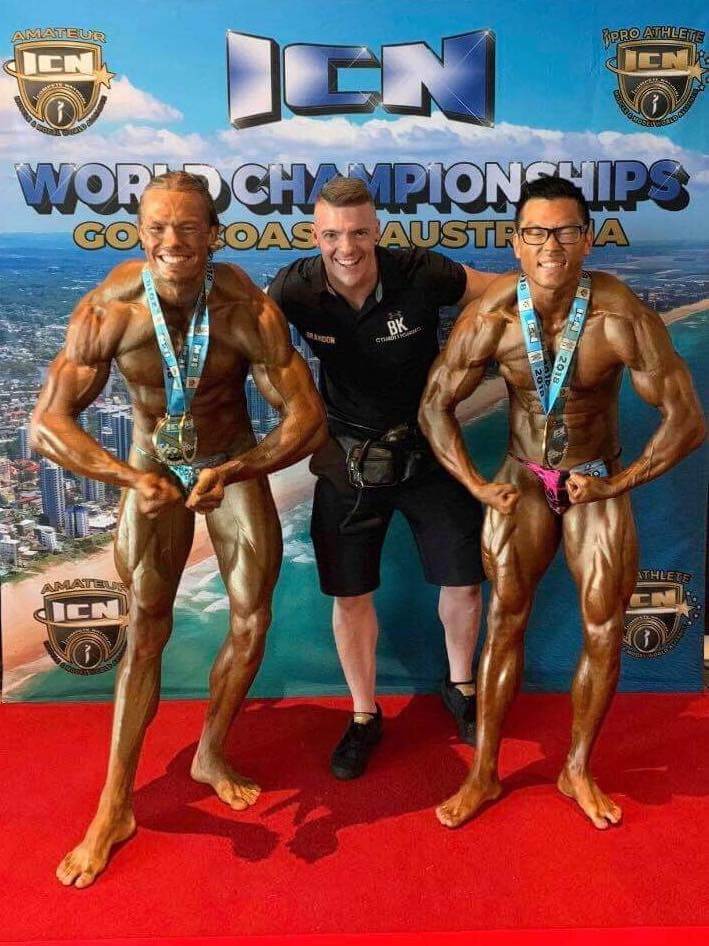 ___________________________________________________________________________________________________________________________________________
Brandon, I am fully aware that you hear this all the time but I really from the bottom of my heart want to thank you for walking with me over the last 18 months and through your consistent effort and encouragement taken me from an overweight gent to one that is actually very proud of what he has become. I would never have imagined sitting behind these trophies let alone stepping up on stage. The gift you have to prepare people and encourage growth not only physically but mentally is amazing. I have come to know you in a small part and what I have learnt I am proud to be by your side. God bless mate and I look forward to the future of yourself and the team.
Dave Bishop
ICN QLDs Masters Champion 1st
ICN Rookie over 40 Champion 1st
ICN Rookie over 50 Champion 1st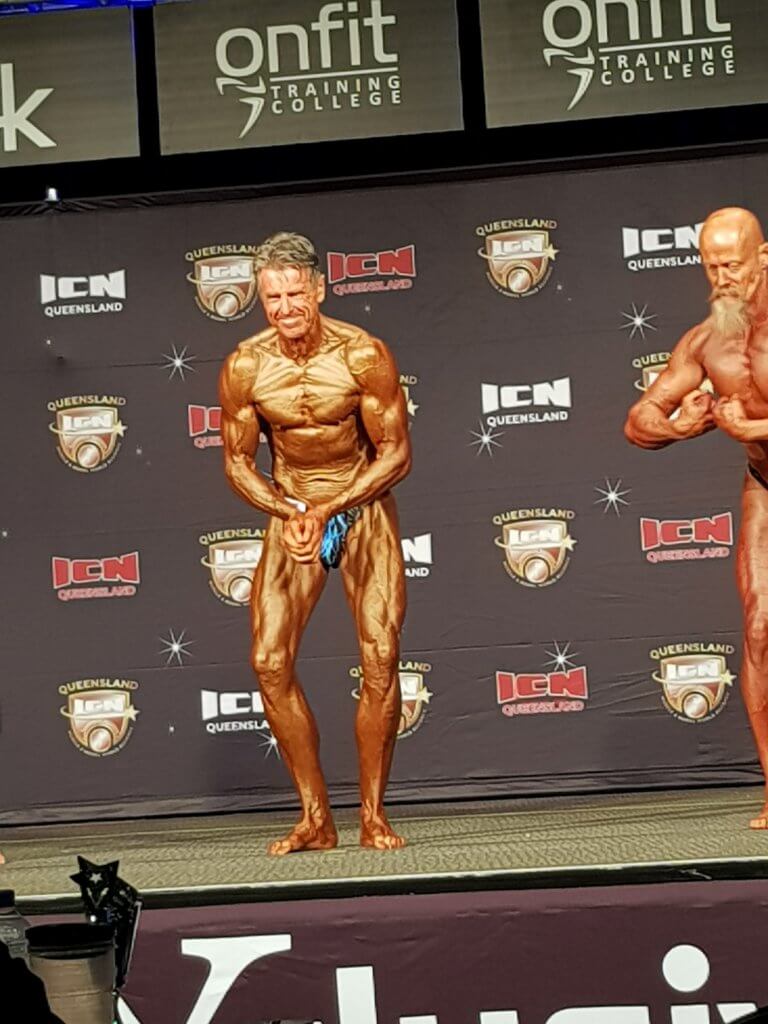 I started the online comp prep coaching with Brandon in April 16, so approx 5 months ago. When I decided to compete, it was because I didn't like the sloth I had become, eating when I wasn't hungry and usually all the 'unhealthy' choices, feeling depressed with life and I wanted a goal to strive for. To have an outlet where I felt good. I wanted to have that awesome fit body that my kids could say, "that's my mum, we're so proud!' The extra bonus was that I turn 40 in October. so being in the best shape of my life hitting this milestone is awesome.
Juggling a very demanding working career, family and training was not a walk in the park. I struggled with cravings, mood swings and body issues daily. My determination to peak at the best possible body condition was my goal and I think I have achieved that because I started to see results. They didn't happen straight away, but they did happen.
My journey with Brandon has taught me that you need good food to fuel your body while training. If you don't eat, and good sources of food, you can't deliver the expected gains in the gym. I used to think that doing heaps of cardio and minimal weights would get the dream body I want to maintain. How wrong I have been.
The weekly coaching and support from Brandon has been the most educational and real discussions I have EVER had regarding training and nutrition. This man knows his work. My blue print is not the same as another athlete's, its mine and Brandon updated and changed this frequently to suits my needs and body conditioning. It never stopped. And it will continue to grow. The team page where you can liaise with other team BK athletes is such a supportive and inspiring family, with the same drive and passion for their individual goals as me. They are the bomb and I am so glad that I have met them.
Robyn Telford-Pass
Coffs Harbour Sports Model Overall Winner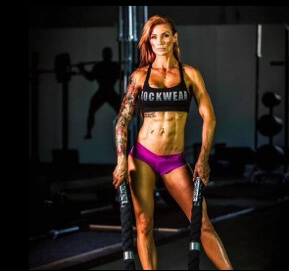 Words cannot express my deep gratitude and love for this guy. When my whole world fell apart this year he not only kept me together, he worked with me through the hardest times, bringing me back to my goal over and over.
When I started working with Brandon 18 months ago he promised me we could achieve a top 5 INBA placing. This season my results were way beyond anything I had hoped for.
Tropix: 3rd Figure International, INBA Brisbane Classic: 3rd Sports Model 40+, 4th & 5th in Figure International 40+ and Height Class II, Defence Force National Titles: 1st SportsModel & Second Figure International INBA National Titles: 5th SportsModel 40+ Bali Paradise International: 5th SportsModel 40+, 5th SportsModel Momma

Brandon stuck by me, pushed me to keep going, talked me through my challenges, and worked with me through injury. Brandon, you really are a special and unique soul. I am so blessed to have you in my life. Thank you from the bottom of my heart for helping me make my competition dreams come true.
Diana Kidd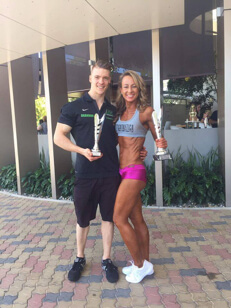 Being coached by Brandon is like having a personal fitness encyclopedia. His knowledge, personal understanding/customisation and objective/science based coaching style is the ultimate combo to be able to guide you through any prep.
Under Brandon's guidance I was able to win Bikini open champion at INBA NT 16 and Miss Ibiza 16 and after maintain a good physique with strong progressions towards the next goal. Brandon's hard work and continuing professional development make him more valuable each day.
Caitlin McVeagh
INBA NT Bikini 1st place 2015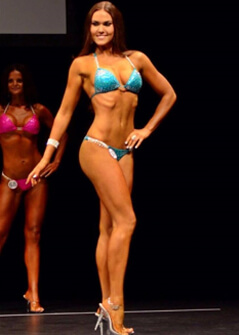 I first saw Brandon before my second ever Bodybuilding in 2017 show. Having prepped before, I was concerned about all the struggles that come along the way with prepping for a show. I can honestly say it put my mind at ease knowing Brandon was in control consistently guiding me in the right direction, assuring me he had complete faith in me and pushed me to over achieving my goals.
I placed 1st in my weight class and 3rd in the novice. I did not even expect a placing! When I heard my name called I knew all the hard work had payed off. I truly have learned a lot from Brandon not just about prep but about life and well being in general, he had shown me a better way to be. Definitely can't wait to prep again with such an amazing coach.
Isaac Walton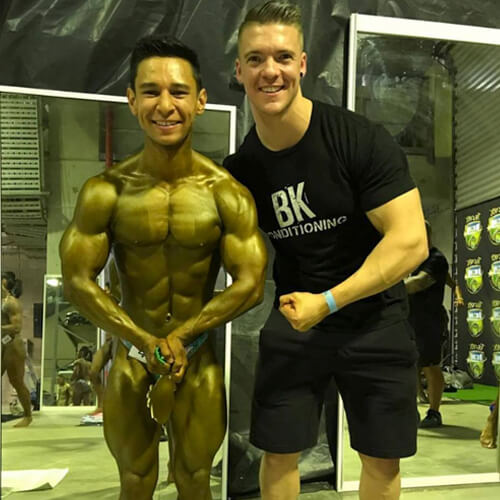 I contacted Brandon Kempter to discuss the possibility of competing and since that first phone call I have looked back only to see how far I have come in terms of muscle development, nutrition and self-confidence.
Brandon's wealth of knowledge and experience has guided me through my first competition, with many more to come. I am more than just a number to my coach, but a unique athlete. 
Brandon should be commended on his dedication to acquiring and applying evolving knowledge in the fitness industry and his steadfast dedication to his clients.
Rachel Wardrop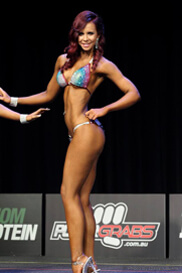 Before I set my goal on competing in the INBA QLD I had never lifted heavy weights, was living off cardio, and was drinking too much. I ate badly and flittered in and out of various training programs, never seeing the results I was chasing. That's when a friend introduced me to Brandon and I haven't looked back.
Not only did Brandon help me reach my goals of competing he got me to smash them with podium finishes in my very first season… Something I only dreamt about! He taught me not only how to strength train but about flexible dieting and that I don't need to deprive myself to reach my goals and I'm still learning something every time we train. 🙂 Without Brandon's guidance and expertise I would still be chasing the dream not living it.
Alicia